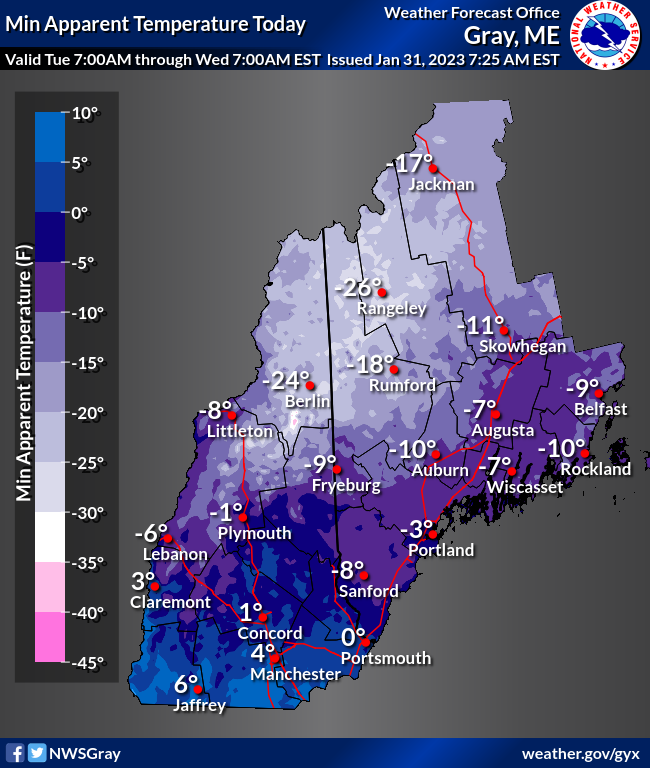 WMTV-TV reports that subzero temperatures with wind chill factors of -40°F to -30°F are likely to start early this weekend:
A "polar punch" of air arrives Friday and will last through Saturday. A brutally cold airmass normally reserved for the Arctic will move into New England for a brief period this weekend.
Temperatures on Friday will drop starting after midnight and will be near zero by late afternoon, and then go below zero overnight into Saturday morning. While double-digit subzero low temperatures have occurred in Maine numerous times, the winds that will accompany this arctic air will make it feel much worse. Winds could gust to 35 mph with temperatures around -20 to -15. That will make it feel like -40 to -30.
In a statement, the National Weather Service in Portland, ME said:
An arctic cold front will slam into the region and send temperatures into a nosedive beginning Thursday night. Extended periods of temperatures in the single digits or below zero along with winds gusting around 30 mph will lead to dangerously cold wind chills. Just how cold remains to be seen based on timing of the front, but this will be some serious cold. By Sunday temperatures will be back to near normal for this time of year.
As seen in the feature graphic above from the NWS in Portland, overnight low temperatures are already below zero Fahrenheit.