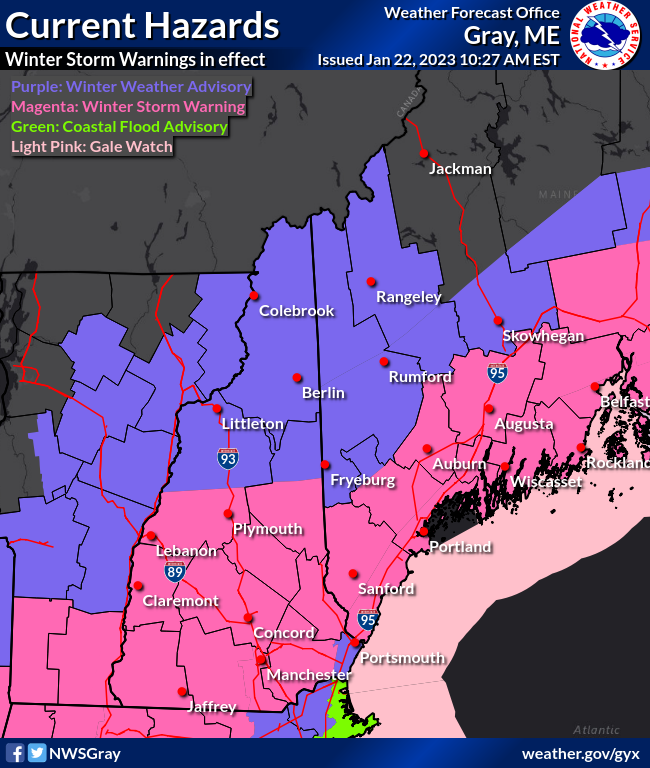 Separate winter storms bearing snow and ice, creating travel hazards and threats of power outages, struck Maine as the work week began on January 17 and ended on January 20.
WABI TV 5 in Bangor, Maine reported a "First Alert Day," for inclement winter weather in Maine, warning of high winds, snow, sleet, and freezing rain in various regions of the state on January 16..
In mid-January a coastal low blew into Maine, delivering a mix of winter weather. WABI reported:
Snow this morning will change over to a mix of sleet and freezing rain as warmer air filters in. Sleet and freezing rain will continue through the day and taper off overnight. Ice accumulations of up to 0.5″ are possible Downeast and into the Penobscot region. Northern Maine and far eastern Washington county could pick up to 0.25″ for central Maine.
In addition to ice, sleet and snow will also accumulate. Around 1-3″ of sleet and snow is possible in the Bangor region, Central Maine, MidCoast Maine and Northern Maine. Lesser amounts are expected in Washington county and Western Maine.
Residents were warned to beware of ice accumulating on tree limbs or power lines, which could bring them down, with below freezing temperatures and winds gusting up to 35 miles per hour over a two to three-day period.
The coastal low blew out by mid-week, only to be replaced by a winter storm blowing in from the Midwest bringing even colder temperatures and heavier snow to close the week, reported CNN.
The late week storm had widespread impacts across New England. The National Weather Service issued winter weather advisories and winter storm warnings, for various parts of New England heading into the weekend.
"A winter storm that dumped up to a foot of snow across parts of the Midwest this week coated the northeastern US with flakes on Friday with some areas in Maine and New Hampshire receiving more than 8 inches," wrote CNN. "The village of Madison in New Hampshire reported 8.5 inches, the highest total as of Friday evening.
"A widespread area of 3 to 7 inches of snow has fallen across eastern New York, northern Connecticut, Vermont, southern Maine and other areas of New Hampshire," reported CNN.
Even deeper snow levels were recorded in mountainous areas across New England, pleasing the region's ski resorts.