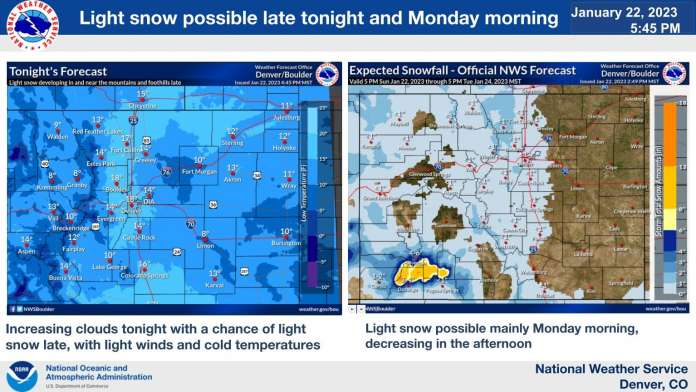 The Coloradan reported that the National Weather Service (NWS) issued a "Winter Storm Warning" for Colorado for January 17 and 18, in anticipation of heavy snow and high winds impacting traffic along the Interstate 25 corridor ranging from the Colorado/Wyoming border to the borders with Nebraska and Kansas.
"The area could see 6 to 13 inches of snow with up to 35-mph wind gusts," the NWS said with high confidence.
CBS Colorado reported that heavy snow resulted in the closure of dozens of school districts, colleges, government offices, and businesses across the state.
"[Dozens of] school districts across Colorado canceled school on Wednesday [January 18]. Some schools also canceled classes or activities scheduled for Tuesday night ahead of a winter storm that was expected to bring between 7 to 14 inches of snow in some parts of the state," wrote CBS Colorado.
Updated coverage of the storm reported that it was Denver's "biggest snowstorm in the month of January," since 1992, with more than 8.6 inches of wet snow having fallen by mid-morning January 18.
Because snow continued to fall through Thursday January 19 and temperatures remained in the 20s, most schools and offices that closed beginning January 17, remained closed through the 19th.
Dozens of accidents were reported due to snow and icy conditions across Colorado.