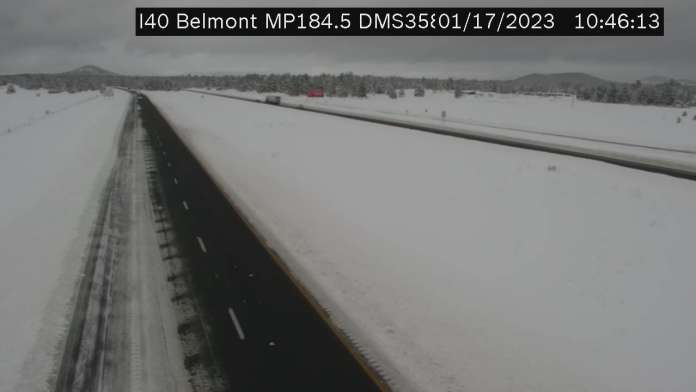 Arizona's Department of Transportation (ADOT) warned drivers to stay off the roads if they could as an intense winter storm, accompanied by ice and heavy snow, made its way across the northern part of the state.
The warning came as The Arizona Sun reported:
[A] strong winter storm brought at least a foot of snow to several areas throughout northern Arizona, ….
According to the National Weather Service [NWS] in Bellemont, Flagstaff set a record for snowfall with 14.8 inches on Sunday, breaking the previous mark of 8.9 inches set in 1978. Adding the start of the storm on Saturday night, the Flagstaff Airport is up to 17.7 inches of snow so far.
The NWS estimated that an additional foot to two feet of snow would likely fall through December 17.
In response to the snow and road conditions, various city services were cancelled or delayed, and classes were canceled for the Flagstaff school district, at Northern Arizona University, and at the Coconino Community College.
The effects of the winter storm were not limited to Flagstaff, however, with many roads closed across Northern Arizona due to unsafe conditions. AZ Central reported:
Near the Grand Canyon, which could be accumulating eight to 12 total inches of snow early this week, according to the National Weather Service, State Route 64 between milepost 241-268 remained closed as of noon on Monday. The highway was shut down late Sunday.
ADOT tweeted Sunday night that snow and ice have been reported on roads in the Springerville area, especially US 191. This also includes some flagged areas in Greer and along SR 261.
Around 8:30 a.m. Monday, the Flagstaff National Weather Service warned that snowfall rates would pick up within the next couple of hours and could leave portions of I-40 from Williams to Flagstaff and I-17 from Flagstaff to the Overlook impassable at times.