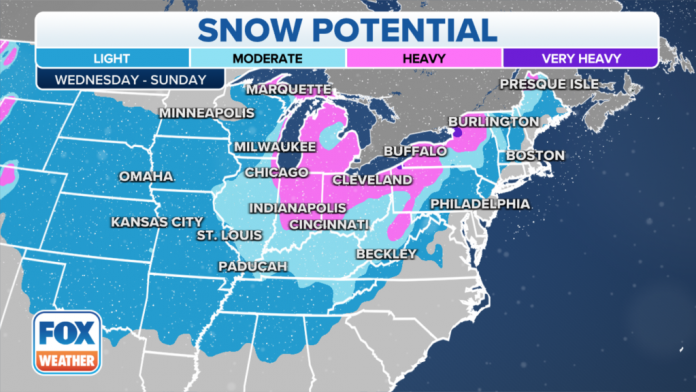 AccuWeather, USA Today, and the New York Times, among other news outlets are warning that a major winter storm is expected to bring extreme cold, high winds, and heavy snow that could disrupt holiday travel and result in significant power outages across much the United States Christmas week.
"Just as millions of Americans begin to travel over the river and through the woods to grandmother's house, there is growing confidence that a significant winter storm will develop later this week and impact a large swath of the country, according to the FOX Forecast Center," reports the New York Post.
Because the storm is still days away details are difficult to determine with precision, however, weather forecasters are saying an arctic air mass is expected to deliver freezing temperatures, high winds, snow, and ice from western Washington state eastward through Maine, southward to Texas and across to South Carolina.
Meteorologists' confidence is growing that the storm will have major, widespread impacts across the United States, beginning Wednesday and possibly lasting through Christmas, says FOX Weather meteorologist Amy Freeze.
"The timing right now is that this could last into Christmas weekend," said Freeze, according to the New York Post. "For some, it's a nightmare. For others, this could be dreaming of a white Christmas come true."
"'It's a significant winter storm, bringing rain, wind and snow and causing travel issues,'" Freeze said. "'But the heavy snow and strong wind, strong wind, I can't emphasize that enough, can really disrupt the travel and maybe even take out some power.'"
Among the specific effects warned of by Fox News about this "highly impactful" winter storm are that:
an area of low pressure develops in the Midwest and rapidly strengthens into a powerful low-pressure system over the Great Lakes.
That will allow heavy snow, fueled by moisture from the Great Lakes, to bury portions of the Midwest. The dangerous combination of high winds and falling snow could reduce visibility to near-zero at times, which would make travel virtually impossible for some parts of the region in the days leading up to Christmas weekend.
While, as of December 19, light to moderate snowfall from a few inches to a foot is expected to fall across much of the the United States, weather forecasters project the arctic blast could dump upwards of two feet of snow in some areas.