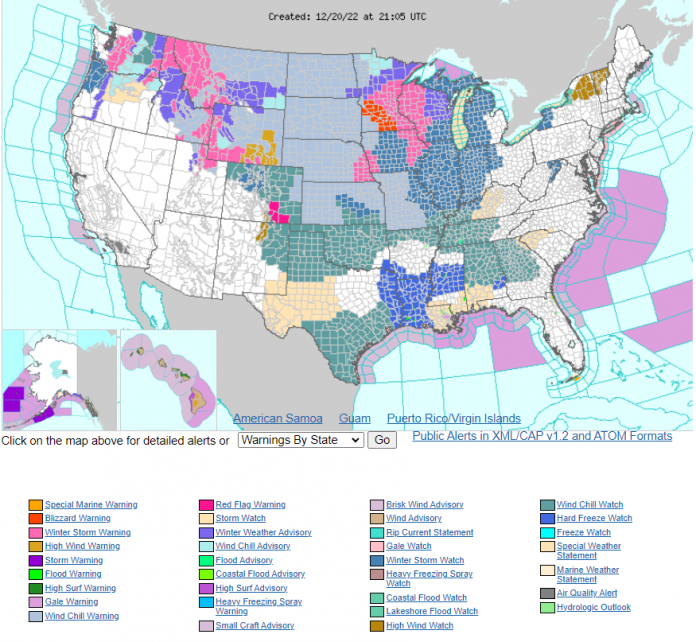 Fox Weather reports on an upcoming severe winter weather event:
A dangerous blizzard could become a bomb cyclone as it wallops the Midwest and Great Lakes later this week, with damaging winds also spreading toward the East Coast and creating a travel nightmare for millions ahead of the Christmas holiday weekend.
The winter storm will also usher in bitterly cold, potentially life-threatening temperatures that will spawn a widespread flash freeze in the Plains, Midwest and East as heavy rain is followed by temperatures rapidly falling below freezing all the way to Florida and along the Gulf Coast.
A "bomb cyclone" in winter can create widespread snow and blizzard conditions with wind gusts from 60 to 80 mph, with locally up to 100 mph – matching hurricane strengths. Forecasters expect this storm will meet the criteria for a "bomb cyclone" having barometric pressure readings dropping in excess of 24 mb (0.71 in Hg) over a 24-hour period. The last such winter bomb cyclone event occurred in March 2019.
The National Weather Service (NWS) at weather.gov shows that Winter Storm Watches, Winter Storm Warnings and Winter Weather Advisories plus many other watches and warnings have been issued by the National Weather Service from the Pacific Northwest eastward to the Plains and Midwest.
Chicago, Detroit, Indianapolis, Milwaukee and Minneapolis-St. Paul are included in the Winter Storm Watches. Frigid temperatures are expected to go as far south as the tip of Texas and the Louisiana Gulf Coast.
The NWS website headline paints a very cold and snowy picture for much of the United States.
Arctic air and bitter wind chills will spread across much of the U.S, and will impact much of Alaska. Heavy snow and blowing snow in the Northwest will spread into the Plains and upper Midwest mid-week. The system shifts into the East later this week with areas of a wintry mix, rain, and potential for strong thunderstorms. Rain on melting snow could produce flooding in the Northeast late week.