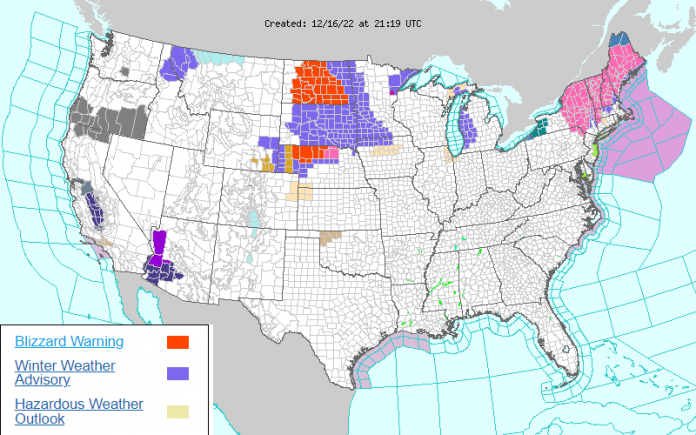 AccuWeather reports that a large winter storm dumped feet of snow across the northern Great Plains of the United States, snarling traffic, forcing road and airport closures and flight delays, stranding travelers and residents alike.
"A major winter storm brought as much as 4 feet of snow and blizzard conditions to the northern Plains this week, leaving thousands without power, hundreds stranded on roadways and at least one injured in Utah after an avalanche," wrote AccuWeather. "Nearly 20 miles southeast of Salt Lake City, Utah, an avalanche at Neff's Canyon sent one person to the hospital on Wednesday, KSLNews reported."
Official "Blizzard" conditions prevailed across wide swaths of the northern plains, from Utah, Nebraska, South and North Dakota, Minnesota and Michigan. To be officially considered a blizzard, blowing snow must reduce visibility to a quarter mile or less with winds gusting above 35 miles per hour for a minimum of three consecutive hours.
Highways and side roads were closed in several states, and tens of thousands of residents experienced power outages during the storm from ice forming on power lines bringing them down. As reported by Yahoo News, persisted for three days.
"In Minnesota, more than 45,000 customers were without power on Thursday morning, according to PowerOutage.US," reported Accuweather. "In Wisconsin, nearly 70,000 customers woke up in the dark, and in Michigan, more than 43,700 people were without power."
Rapid City, South Dakota's airport was closed to all traffic, with the South Dakota Department of Transportation (SDDOT) posting "No Travel Advisories"  on almost all secondary highways throughout central and western parts of the state. The SDDOT tweeted that highways and roads in the south and central parts of of South Dakota are currently physically impassable "due to widespread deep snow and drifts." This includes Interstate 90.
People trying to avoid road closures and take alternative routes have endangered themselves and first responders, said Craig Smith, director of Operations with SDDOT, in a press release.
"We've had countless vehicles become stuck and stranded on secondary state highways in the motorist's attempt to avoid an Interstate closures," said Smith. "Stranded vehicles create personal risk for the motorist and extreme hazards for snowplow operators. Ultimately, as DOT personnel assist with removing stranded vehicles, plow operations are delayed."
Similar conditions prevailed in North Dakota where 2/3s of the state's roads and highways were closed on Thursday. Yahoo News reports that as early as Tuesday, December 13, at the blizzard's onset, road conditions had already deteriorated to "IMPASSABLE," in Nebraska, according to a tweet from Nebraska state troopers.
In Minnesota, despite more than 102 snowplows operating around the clock, Sergeant Jesse Grabow, with the Minnesota State Patrol responsible for the NW region, reported numerous traffic accidents, including emergency crews responding to at least 17 crashes and 20 additional disabled vehicles that had slid off the road due to the prevailing harsh winter snow, ice, and wind conditions.