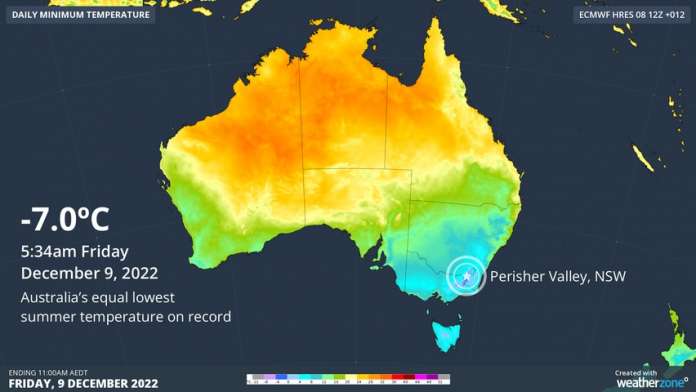 WeatherZone.Au reports on a significant record-breaking cold snap in New South Wales, Australia:
Perisher Valley just registered Australia's equal lowest summer temperature on record after plunging to -7ºC early this morning (Dec 8, 2022.)
An unseasonably cold air mass combined with clear skies and light winds allowed temperatures to dive across southeastern Australia on Thursday night.
Sub-zero temperatures were recorded in parts of NSW, Vic and the ACT early on Friday morning, with the mercury also dipping as low as 1.5ºC in SA and 8.2ºC in Qld. These temperatures were about 5 to 10ºC below average for early summer.
The official start of summer in the Southern Hemisphere is December 21, 2022, just a few days away. However,  the Perisher Valley and its ski resort, Australia's most popular snow holiday destination and the southern hemispheres largest ski resort is no stranger to cold snaps. But this particular cold snap is unusual as it matches the previous record low for December as shown in the chart below.