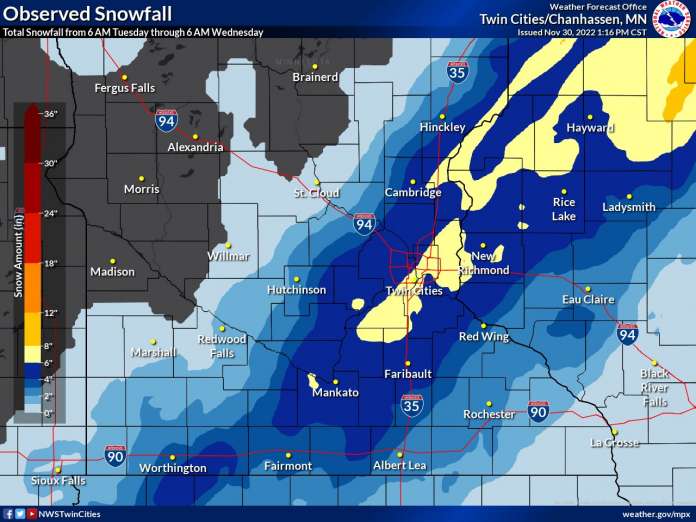 Snow emergencies were declared across much of Minnesota after a fall storm dropped as much or more than nine inches of snow across the state and in other parts of the upper Midwest.
Fox Weather reports that an unexpectedly broad storm front dropped heavier than expected amounts of snow across eastern Nebraska, southern Minnesota, and northwestern Wisconsin. The storm delivered the greatest amount of snow to fall so far on a single day to Minneapolis-St. Paul during the 2022/2023 winter season.
"Snow began to break out Monday night across western Nebraska and South Dakota as an area of low pressure moved off the Rockies," the FOX Forecast Center said, continuing, "The low-pressure system has been strengthening, and that will allow for the snow to increase in coverage and intensity from Colorado to Minnesota, Wisconsin and parts of Michigan's Upper Peninsula."
By the afternoon of November 29, CBS Minnesota disclosed that more than 400 accidents had been reported on Minnesota's roads as a result of the winter weather and more than 100 flights were cancelled and 200 delayed at the Minneapolis-St. Paul International Airport.
Responding to the snow accumulation and high winds, the National Weather Service issued Winter Storm Warnings and Winter Weather Advisories for parts of the central Plains and Upper Midwest, ranging from Nebraska, through Minnesota and parts of Wisconsin to the western Upper Peninsula of Michigan.