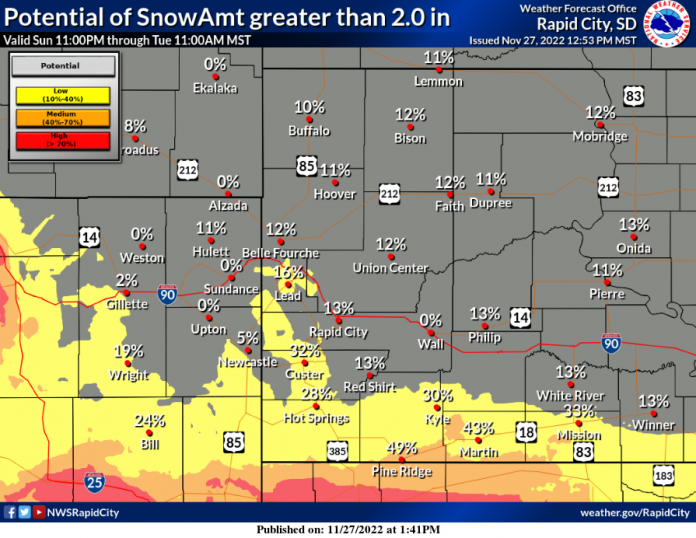 While fall is off to a slow start in parts of South Dakota, with only a smattering of snow in many areas of the state, winter has definitely come to the Black Hills, with more than two feet of snow already on the ground, and more anticipated by the National Weather Service (NWS).
On Thanksgiving Day, KeloLand, the local news for Sioux Falls, South Dakota noted Sioux Falls reported about a half inch of widely scattered snow, Aberdeen had received approximately three and a third inches, with Pierre, the state's capital, reporting about an inch and a half of snow. By contrast, Rapid City, in the Black Hills region of the state, had already received eight inches of snow by Thanksgiving Day, with more to come.
By Sunday morning, November 27, the NWS reported snow accumulations of between one and two feet in and around Rapid City and northeastern Wyoming, with an additional six inches possible Sunday afternoon.
"Strong wind gusts of 50 to 60 mph on the plains east of the Black Hills are causing poor visibility," reported the NWS, resulting Interstate Highway 90 being closed between Spearfish, South Dakota and Rapid City.
Wind chill values across the region fell into the teens down to -10℉. The NWS expects a brief respite from snowfall on Monday before snowfall returns to the area Tuesday afternoon and evening.