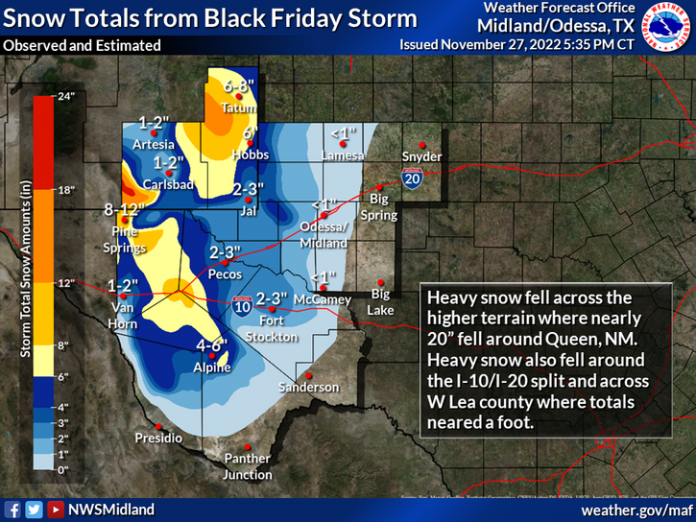 CBS News reported that the National Weather Service (NWS) issued Blizzard Warnings for parts of Culbertson County in West Texas, centered near Pine Springs. Winter Storm Warnings were issued for surrounding areas in New Mexico and Texas.
CBS News wrote:
On Friday, Nov. 25, 2022, the Midland/Odessa National Weather Service office extended a blizzard warning for parts of Culberson County, including the city of Pine Springs…. They said as much as 10 inches of snow could fall ….
The snow, however, is just part of the story. A blizzard warning is only issued when high winds are expected during heavy snowfall, creating whiteout conditions and severely impairing visibility.
…
Meanwhile, the surrounding parts of New Mexico and Texas are also being affected by the same storm system. A winter storm warning was issued for the area, and NWS meteorologists said that as much as a foot of snow could fall over the next 24 hours.
The NWS warned the high winds could bring down powerlines and tree limbs. Because of this and the anticipated whiteout conditions, the NWS recommended people avoid unnecessary travel. If travel is a necessity, the NWS suggested people carry a winter survival kit in case a breakdown or accident strands travelers until help can arrive.