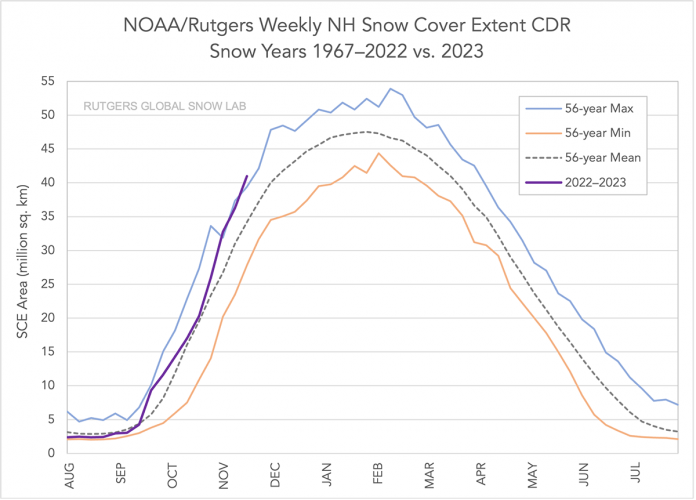 Data from National Oceanic and Atmospheric Administration (NOAA)/Rutgers University Snow Lab show the snow extent for the Northern Hemisphere is at a 56 year high for November. (See the figure).
Severe-Weather.eu says the record setting November snow extent indicates winter could come early and be colder than usual in North America and Europe.
"Snow extent in the Northern Hemisphere at the end of November represents an important parameter for the early winter forecast," writes Severe-Weather.eu. "This year snow extent is running much higher than average and according to existing global estimates, it is now beyond the highest ever observed so far."
"Winter forecast, especially in its early phase and in Europe, might be strongly influenced by such a large snow extent …," Severe-Weather.eu says.
As is evident from the image above, Russia is almost entirely covered in snow at the present, as are much of Canada, Alaska, and a large swath of the northern tier of the Lower 48 states.
The broad snow coverage came as a result of a faster, heavier than average snow mass increase over the Northern Hemisphere over the past 30 days, as recorded by the Finnish Meteorological Institute.