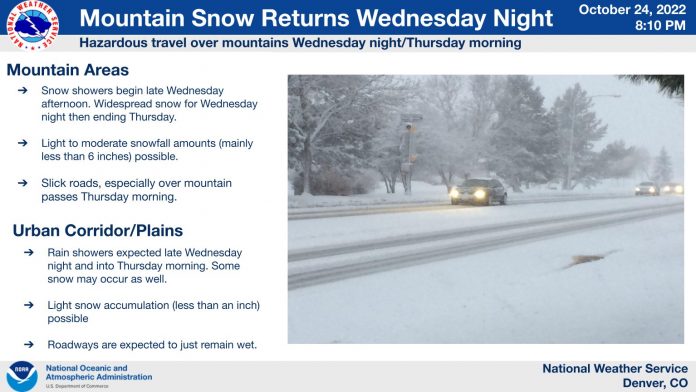 KUSA 9 News in Denver reports the National Weather Service (NWS) issued Winter Storm Warming from Saturday through Monday night. The state faces the first significant snow of the fall, with wind gusts topping 50 mph.
"The first significant snow event of the season has arrived in Colorado," says 9 News. "The Park Range in western Colorado could see six to 12 inches of snow accumulation while two to eight inches is forecasted for the Front Range mountains Mountain travelers should use caution as mountain passes will be snow-covered or slick from Sunday into Monday morning, said NWS."
The snow brought an early opening to the Arapahoe Basin Ski Area which opened its runs on October 23, making it the first ski to open in Colorado this season.
Although the NWS did not expect the cold front to drop any moisture in Denver and the eastern part of Colorado, they did end up receiving a dusting of snow as the cold front blew through, dropping temperatures below freezing accompanied by wind gusts that the NWS warned could top 70 mph.
The NWS also reported on Twitter (see graphic) that more snow is on the way for Wednesday.