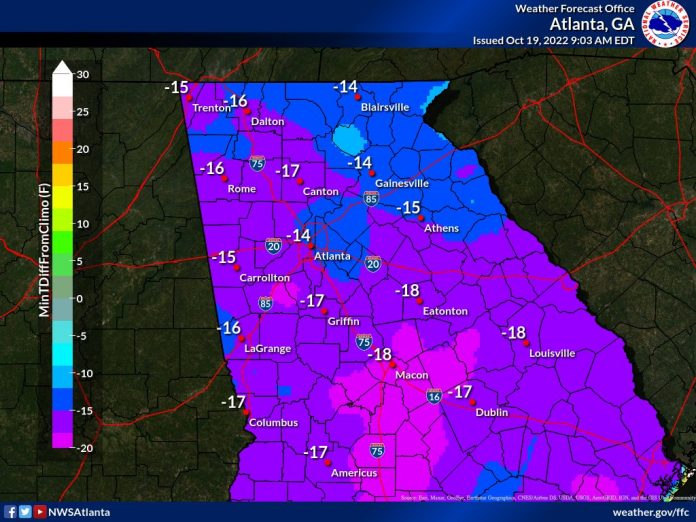 The Atlanta Journal-Constitution reports the arrival of unusually cold temperatures, weeks earlier than normal, likely led to inappropriate fires being set that burned down several abandoned buildings in the Midtown area of Atlanta.
As a large cold front covering almost all of the United States east of the Rocky Mountains arrived in Atlanta, temperatures on October 19 fell to levels that had not been seen since March.
"Much of north Georgia is under a freeze warning with temperatures in the mid- to low-30s, and a freeze warning will be in effect until 10 a.m.," Channel 2 Action News meteorologist Brian Monahan told the Atlanta Journal-Constitution. "'Usually it's late in the month toward Halloween and the early part of November that we see that first fall freeze, (so) this morning: A little bit ahead of schedule,' he said."
Indeed, temperatures in Atlanta were a full 14 degrees F below climatological normal (see map above), and actually lower in the early morning hours of October 19th than those in Cleveland, Ohio.
The Atlanta Fire Rescue Department reported responding to several fires in abandoned buildings in Midtown Atlanta, which it said were likely due to the homeless moving indoors to shelter from the cold and starting fires for heat. Reporting on the fires, the Atlanta Journal-Constitution wrote:
Fires at vacant buildings in Midtown Atlanta and Peoplestown prompted large responses on the coldest night so far this season.
…
People seeking warmth were suspected to be the cause of both fires, although both remain under investigation, according to fire officials. Overnight, Atlanta dipped into the 40s, the lowest temperatures recorded in the city in the past six months. Wind blowing from the northwest made it feel more like the 20s and 30s outside.
"Everybody starts trying to move inside that doesn't have a place to go, using heat sources that they probably shouldn't be using, and things like this happen," fire Capt. Jared Purinton said from outside the charred warehouse. "With the cold weather moving in, there is a possibility we could see this more often here in the next few days."
Thankfully, no one was reported injured in the fires but more than 2,000 residents in Midtown Atlanta, lost power for about an hour even as temperatures fell, when the fire department asked Georgia Power to cut electricity in the area to aid their firefighting efforts.