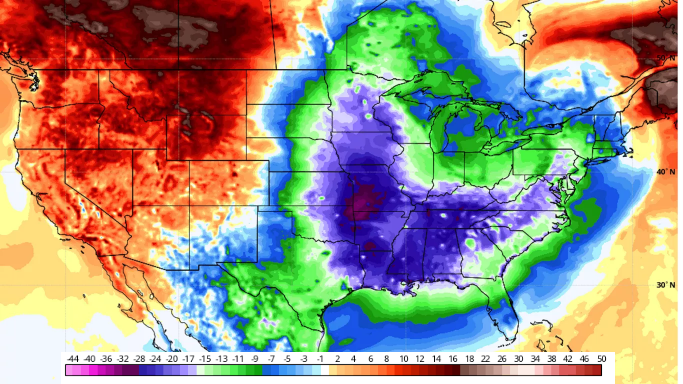 Above: United States map showing temperature departures from normal on Wednesday morning. Image from Weatherbell.com
NBC News reports in November-like chill places 100 million people under frost and freeze alerts:
"More than 100 million people woke up Wednesday under frost advisories, freeze watches and warnings on what was expected to be the coldest morning of the week for the South and the coldest temperatures for most since the spring."
The oddity about this particular event has to do with the cold air mass plunging south as seen in the map above. Freeze warnings included all of Arkansas, Tennessee and Alabama, as well as large portions of other states.
Many cities in the southern U.S. actually experienced colder temperatures than northern cities. For example, Dallas had a colder morning low temperature than Boston, and Atlanta was colder than Cleveland. Usually, the opposite is true.
NBC News also reported that "[f]or the first time on record, Birmingham, Alabama, hit 32 degrees before Billings, Montana, beating that notoriously cold city to the first official freeze of the season."
In addition, at 30°F, Charlotte, North Carolina experienced its fifth earliest freeze on record.
Around the Great Lakes, the cold front delivered early, heavy snow. For example, NBC News reports:
18 inches [of snow fell] in Marquette, Michigan, shattering its record for the highest two-day snow in the month of October. The city typically averages just more than 5 inches of snow in October.
The snow that fell in Madison, Wisconsin, this week was its earliest first snow in more than 30 years. The city's average first measurable snowfall is Nov. 11.