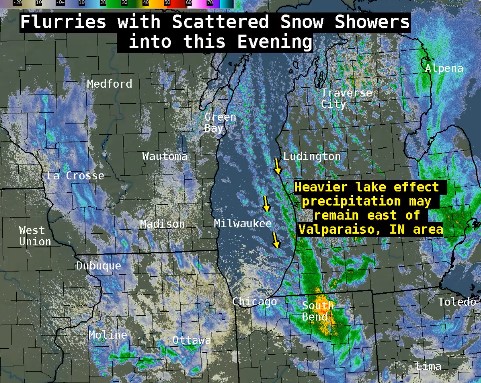 As various news outlets warn of a pending cold front this week that is expected to bring record setting cold across much of the mid-west, southeast, and northeastern parts of the United States, snow fel two weeks earlier than usual in Chicago and the National Weather Service (NWS) issued a winter weather advisory have a for two northwestern Indiana counties.
The first snowfall of the season in Chicago was reported in Chicago on October 17, having been predicted the day before by NBC Chicago 5.
The Chicago area … will see a storm system roll through on Monday, with scattered showers expected throughout the region.
Couple those showers with well-below average temperatures, with highs struggling to reach 40 degrees, and some snowflakes could fall as well, giving Chicago its chance at its first snowfall of the season.
So how does that compare to historical averages? According to the National Weather Service, the average date that the city of Chicago sees its first traces of snow typically falls around Oct. 31
If trace snowfall is detected at O'Hare International Airport on Monday, it would mean that the city is two weeks ahead of "schedule" for the first flakes of the season.
In a separate story discussing the same weather front, NBC 5 reports the NWS issued a winter weather advisory for Porter and Jasper counties in northwest Indiana, just a bit South of Chicago.
"Forecasters say a period of 'heavy, wet, wind-driven snow' is possible Monday afternoon and evening, with some areas seeing up to 3 inches of snow, particularly those away from Lake Michigan," according to NBC 5. "[C]ommuters in the area should prepare for the potential for slippery and hazardous road conditions."