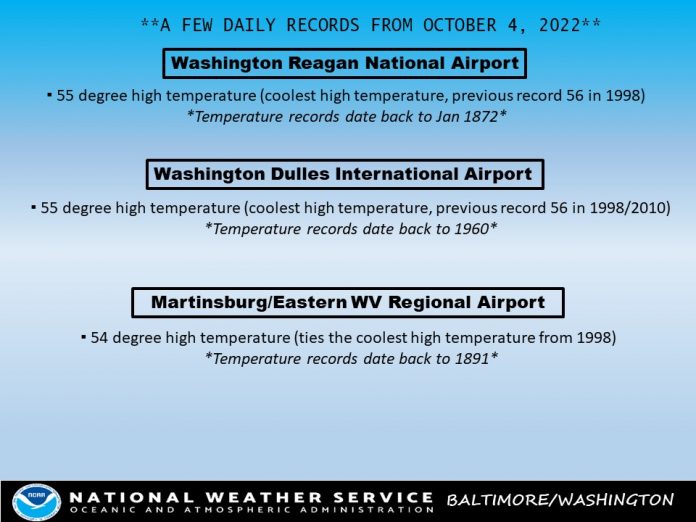 Fall got off to a record setting cold start this week in Washington, D.C., with the The Washington Post's "CAPITAL WEATHER GANG" reporting that October 4th's daily high temperature of 54℉ was a record low 9 (low maximum or LOMX) for that date, according to data recorded since 1872. The previous LOMX record was 56℉, set in 1998.
Area's surrounding Washington, D.C. set new LOMX records as well. Writing about the regions new record cold temperatures, WTOP News reports:
Some new weather records were set in the D.C. area on Tuesday.
Reagan National and Dulles International airports both saw highs at 55 … both breaking records for lowest high for Oct. 4.
The previous record for LOMX on Oct. 4 was 56 degrees, set in 1998 at Reagan National, and 2010 at Dulles Airport.
…
[I]t isn't normally this chilly until later in the month and definitely unusual for highs (LOMX!) to be below 55 before late October. Temperatures early Tuesday morning were around seven degrees below average, Storm Team4 meteorologist Chad Merrill said.
From the NWS Office in Washington D.C. via their Facebook page: