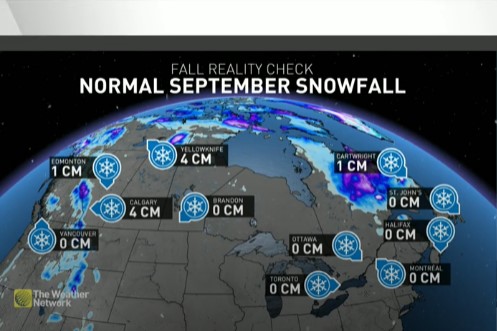 Skiers are gearing up in Colorado, according to InTheSnow.com, after Colorado reported its second round of snowfall in September.
"Most of the states ski areas posted pictures and video of their higher slopes receiving fresh snowfall, generating thousands of positive responses from excited skiers and boarders," reports InTheSnow.
Lower peaks and a wider area received snow during the second snowfall than the first.
InTheSnow writes, "[t]he snowfall in Colorado follows similar falls in Alberta and BC in Canada a week ago which generated similar high levels of excitement among ski communities there."
Concerning Canada's early taste of winter, The Weather Network reports:
We may still have seven days of astronomical summer left on the calendar, but the weather over Canada is more than eager to jump into fall. Snow is in the forecast for a few more lucky communities across the country heading into early next week.
A few select folks across the country have had the opportunity to watch the flakes fall over the past couple of days. Higher elevations west of Calgary, Alberta, saw a touch of snow last week, and parts of Eastern Canada are next in line for snow through this weekend.
Snow isn't waiting for the seasons to catch up, though, and there's plenty more in the forecast in the coming days.