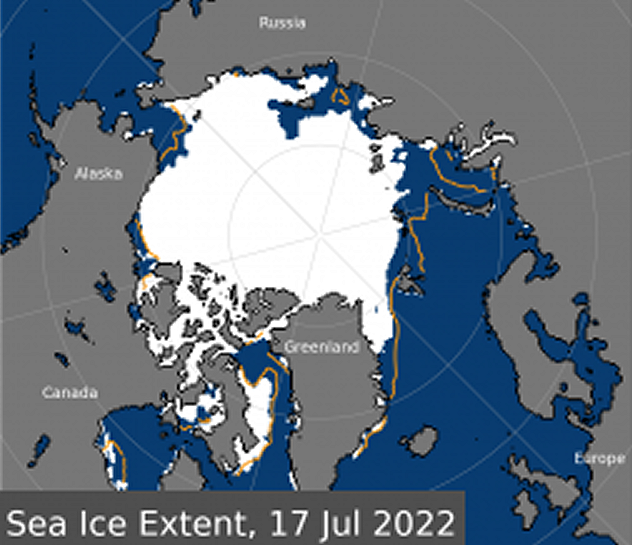 Thebarentsobserver.com reports that, despite being mid-summer, major parts of the waters that connect the eastern Bering Strait with the Barents Sea remain covered by sea-ice. A Russian Meteorological Agency graph shows the extent of Arctic See ice this summer.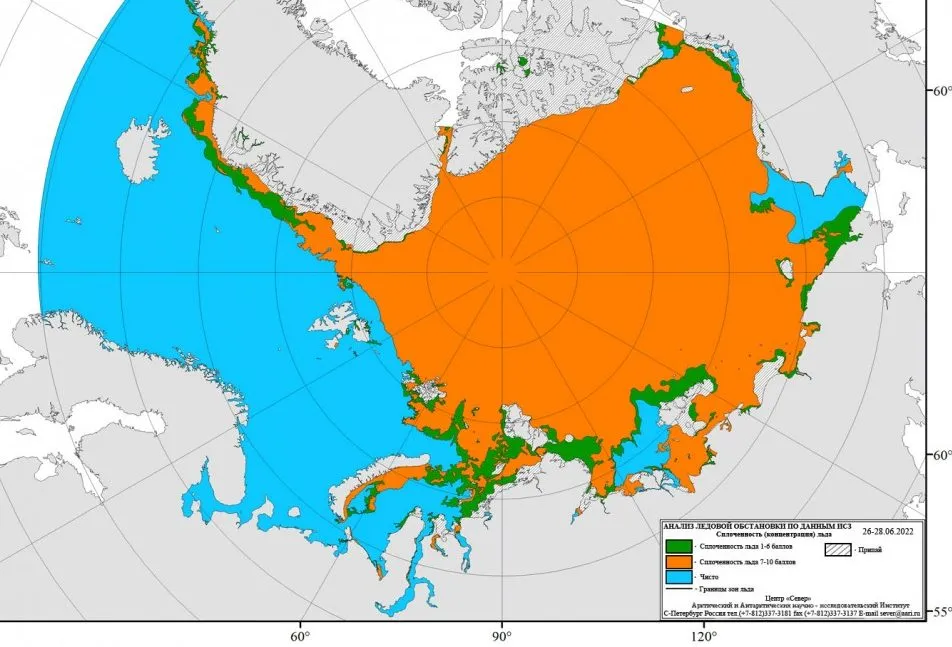 The sea ice map from Russian meteorological service Roshydromet (shown below) reveals that ice layers in late June were most comprehensive in the area of the Vilkitsky Strait, the New Siberian Islands, and in the Chukchi Sea.
In addition, ships have reported being stuck in the ice. According to The Barents Observer article,
The Svaytoy Petr set sail from the far eastern Russian port of Petropavlovsk on June 23, on course for Arctic waters. Two weeks later, the oil tanker had reached the Bering Strait, but it encountered an issue — unusually thick summer ice.
…
Help was dispatched and on July 12 nuclear-powered icebreaker Sibir busted its way through the East Siberian Sea freeing the Svaytoy Petr from the ice.
In related news at The Nome Nugget, an unusually frigid mass of air is currently spinning through the Bering Strait region, bringing rare July snowfall and high surf advisories.
"These kinds of things spin around the higher latitudes all year long," said Rick Thoman, Alaska climate specialist at the International Arctic Research Center at UAF. "Usually, this cold would stay farther north. If this was happening on the North Slope, it would be chilly but nothing particularly to write home about. The fact that it's moved so far south is really the news here."
Flicking through the climate records, Thoman notes that "…this is coldest July airmass of the past 70 years."