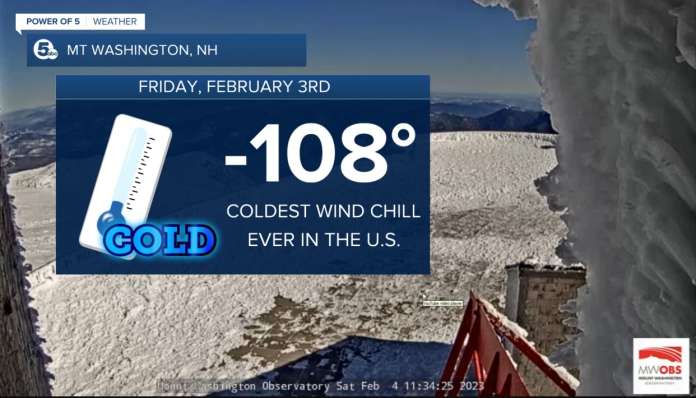 The "Blizzard" and "Wind Chill" advisories and warnings that the National Weather Service issued for the New England in early November were well justified, as wind chill records were set and broken across the region.
Good Morning America (GMA) reported that "dangerous cold," was the norm across Maine, Massachusetts, New Hampshire, Vermont, Connecticut, Rhode Island, parts of upstate New York, and northern Pennsylvania over the weekend beginning Friday, November 3.
"25 million under wind chill alerts as record-breaking cold temperatures hit Northeast," was the headline of GMA's story.
"The coldest wind chill in U.S. history was recorded Saturday morning in Mount Washington, New Hampshire, at minus 108 degrees," wrote GMA. "The cold moved into the Northeast Friday morning, with a wind chill — what the temperature feels like — reaching minus 21 degrees in Maine, minus 22 degrees in Vermont and minus 7 degrees in Buffalo, New York. The worst of the cold arrived Saturday morning."
Boston closed its schools on November 3 and all sporting events were cancelled over the weekend due to the danger posed by record shattering cold and wind chill.
With a temperature of -9℉, Boston set a new record for cold on November 4, shattering the previous record of -5℉ set more than 140 years ago in 1881. The cold combined with high winds established a wind chill of -35℉.
Locations in Maine joined those in New Hampshire and Massachusetts in setting new wind chill records, according to GMA, which reported that "Portland, Maine, shattered its all-time record lowest wind chill of minus 41 degrees, reaching minus 45 degrees Friday night. Frenchville, Maine, recorded a wind chill of minus 58 degrees Saturday morning."