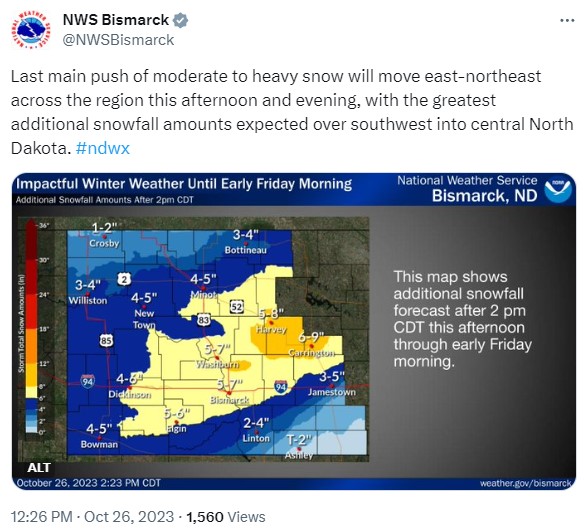 A frigid weather system out of Canada blew into the United States throughout the week, delivering below normal seasonal temperatures and heavy snow across a large swath of the Northern Rocky Mountain states and Northern Plains, reports USA Today.
"Multiple days of wintery weather in store from the Northwest to the Northern Plains," writes USA Today. "The National Weather Service (NWS) expects temperatures to be 20-30 degrees below normal in the Northern Plains and said snow-covered or icy roads could make travel difficult through the weekend.
"The area from Montana into the Northern Plains should prepare for temperatures in the single digits to the teens with wind chills occasionally dipping below zero," the NWS warned, reported USA Today.
More than a foot of snow had already fallen in some areas across the Northwestern United States by October 27, with more snow and continued cold expected in the coming days.
AccuWeather meteorologist Scott Homan told USA Today that moderate to heavy snow has spread across eastern Montana, into the Dakotas, and the northwestern portions of Minnesota, complicating travel in areas with high winds.
The frigid air and snow moved into Colorado, southeastern Wisconsin, and southern Minnesota, over the weekend.