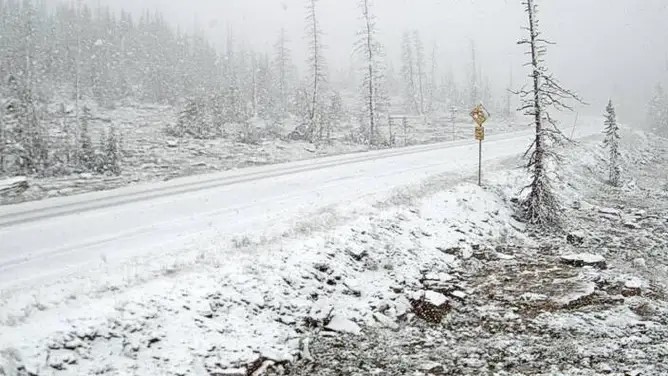 Image above: Snow at Bald Mountain Pass in Utah, Utah Department of Transportation.
With the end of summer still weeks away, mountainous areas in Utah and Colorado have already received measurable pre-Fall snow.
Over labor day weekend Fox Weather reported that on September 5, Snowbird Mountain Resort and Utah Department of Transportation recorded snowfall at the Resort and at Bald Mountain Pass, respectively.
"Forecasters with the National Weather Service in Salt Lake City said winter-like conditions could be found on Labor Day above 10,000 feet," wrote Fox Weather. "Snowbird Communications Manager Sarah Sherman … estimated over an inch of new snow fell at Hidden Peak, Snowbird's 11,000-foot peak."
Just one week later, some mountains in neighboring Colorado also saw moderate to heavy late-summer snowfall, resulting in some road closures, according to NBC 9 News.
"The first snow of the season arrived at several areas of Colorado including Rocky Mountain National Park where Trail Ridge Road was closed for several hours," reported 9 News. "Pikes Peak, Longs Peak, Loveland Pass, and Rocky Mountain National Park all reported snow early Monday [September 11]."