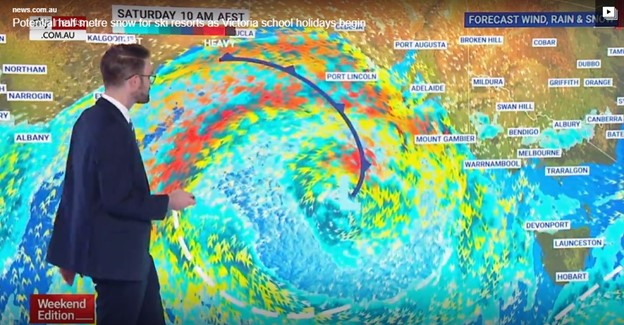 Cold winter weather is returning to Australia, according to an article on News.com.AU:
Australians in the southeastern states are being warned that dual cold fronts will bring in some frosty weather and even snow this week.
…
That cold front will cause temperatures to drop below average in the eastern capitals and is also set to bring in snow to alpine areas on Monday, according to WeatherZone's Jess Miskelly.
"The linking up of cold air with moisture from the east means that this system is going to favour snow and rain over eastern NSW as shown in the figure below," she said.
It seems that snow is also on the way, "In addition, a second cold front forecast for Friday provides an ideal set-up for a good snow dump, with the second front's moisture over-cutting the first front's cold air."
According to the Australian Bureau of Meteorology, as seen in their forecast map below, much of the state of New South Wales and Victoria, as well as Tasmania, will experience subfreezing temperatures on Friday.