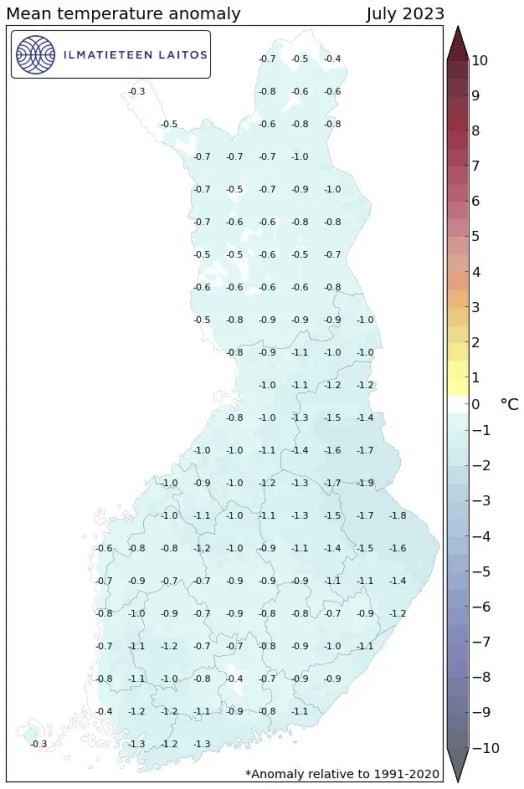 Image above from the Finnish Meteorological Service.
While much of southern Europe has sweltered under high heat this summer, July in Northern Europe was cooler than average, with areas in the alps adding snow.
A review of July temperatures conducted by Electroverse shows that Denmark, Estonia, Finland, Iceland, Latvia, Lithuania, and Sweden all recorded average July temperatures below their multi-decadal norms for the month. Electroverse reports:
Denmark's average temperature for July was 1℃ below the multidecadal average.
Estonia's average July temperature was 1.2℃ below the multidecadal average.
Finland "also held cool last month, logging anomalies of between -0.3℃ to -1.9℃ across the country."
Iceland's July was "very cold, particularly in the NE where anomalies of -2℃ were posted."
Latvia's July temperature was 1℃ below normal average for the month.
Lithuania's July temperatures were 0.7℃ below normal.
And, Sweden recorded a July temperature average -1℃ below the multidecadal average.
Electroverse also reports that the cooler than average temperatures across a large swath of Europe were accompanied by a net increase in snow at higher elevations in the Alps, Scandinavia, and Iceland, a relatively rare occurrence during the summer.