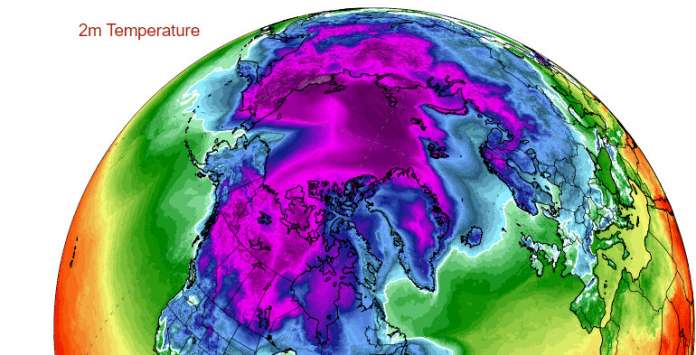 "The month of February was cold across Canada, finishing with a temperature anomaly of -1.15C below average," reports Electroverse. "It was particularly cold in Nunavut, with the coldest February on records suffered in Ranklin Inlet."
Rankin Inlet set new daily February cold temperature records repeatedly in February, including record lows of -44℃ (-47.2℉) on Feb 21 and -43.2℃ (-45.8℉) on both February 1 and again on February 20.
Rankin Inlet was not alone in setting February daily temperature records.
"Arviat also set a new record low on Feb. 21 of -42.4℃ (-44.3℉), while Kinngait set a new record low of -35.9℃ (-32.6℉)," noted Electroverse.
Brian Proctor, a meteorologist with Environment and Climate Change Canada, attributed the regional record setting low temperatures, and Canada's overall below average temperature for February, to a severe and prolonged Arctic vortex.
"We've had a very, very strong Arctic vortex," said Proctor. "From what we've seen, it's been a cold February to cold end of January in the area. And really that's due to the strength of this Arctic vortex more than anything else."
Environment and Climate Change Canada says its computer models indicate much of Western Canada and the Artic will continue to experience below average temperatures through March.