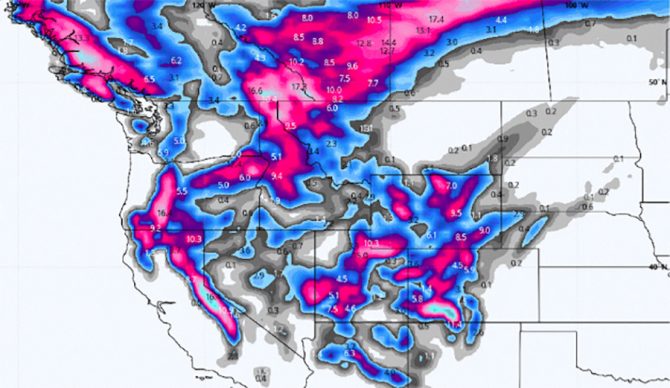 The Inertia, an online publication and podcast covering the outdoors, reports heavy snow has begun to fall over much of the Western United States and is not expected to let up until possibly November 7.
"Forecasters are calling for a series of storms in the Western U.S. that could dump multiple feet of snow in the high country, signaling a start to ski season with an atmospheric river-like pattern," writes The Inertia. "The first part of the storm moved through Northern California, Oregon, Washington and Utah early this week. Places like Oregon's Mt. Bachelor reported 10 inches, Palisades Tahoe with eight inches and more on the way, Montana's Big Sky got five inches and snowing, and Mammoth received six inches. This is all in the first wave of storms. The second is soon to follow."
As seen in the forecast graphic above, significant snowfall is expected throughout the west this weekend and into early next week.
"'Just as things are wrapping up with the first storm, a second storm will begin overnight between Thursday and Friday in the Pacific Northwest," wrote Powderchasers, as quoted in The Inertia story. "Forecasting specifics for a storm this far out is futile, but things are looking promising for the next storm to be even colder and bring lower snow levels."
Weather forecasters say the second round of snow-bearing storms could last through November 7, covering the large swaths of the Mountain West and Western Canada with snow.