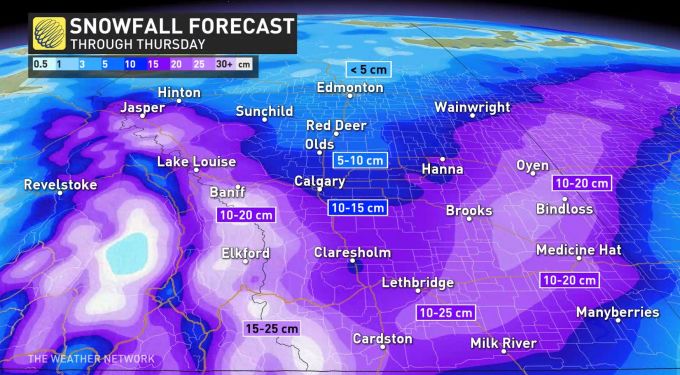 The Weather Network writes:
Incoming winter storm set to deliver significant snow to some across the Prairies this week. A swath of 10-30 cm of snow is forecast from southern Alberta to northern Manitoba.
November will waste no time in giving the Prairies another glimpse of winter, with a potent storm set to push through portions of the region this week. A sizable area stretching from southern Alberta to northern Manitoba will be on the hook for 10-30 cm of snow. As a result, drivers can expect significant travel impacts and possible power outages through late week. More on the timing of this system and when the widespread snow will fly, below.
Snowfall warnings are in effect in northern and southern Alberta, where the heavy snow will fall Tuesday into Wednesday. More alerts are likely to be issued on Tuesday as the precipitation begins to push east.
The forecast calls for significant and widespread snow, as much as 30cm (12 inches) across much of central and western Canada.
Read more here.