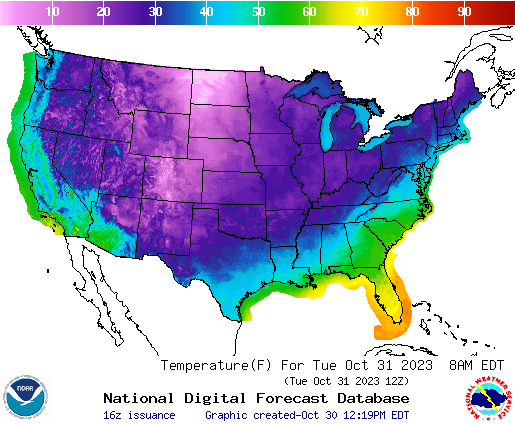 According to the National Weather Service national forecast discussion:
A potent autumn cold front is set to complete its trek across the CONUS by midweek as it pushes through the Gulf Coast and East Coast states by tonight. In its wake, well below average temperatures underneath strong high pressure are located across the central United States and will continue to slide eastward. Most impacts associated with this late-October cold are in the form of overnight frost and freezing temperatures.
Freeze Warnings and Watches extend from central Arizona through the southern Plains and into the Midwest and Ohio Valley, where the growing season is expected to come to an end this week. The coldest temperatures will be located throughout the central/northern Rockies and northern Plains as lows dip into the teens and single digits.
By Wednesday morning, low temperatures into the teens and 20s between the southern Plains and central/southern Appalachians will have the potential to break several daily record lows. These temperatures also equate to around 20 to 25 degrees below average for this time of year.
Meanwhile, Fox Weather via Yahoo News reports:
A bitter blast of frigid air is sending temperatures tumbling across the U.S. this week, putting dozens of records in jeopardy as nearly 250 million Americans from coast to coast feel below-average temperatures.
On Tuesday morning, temperatures will plummet to the single digits in the northern Plains and the teens in the central and southern Plains.
And there won't be much daytime heating as millions of trick-or-treaters get ready to head out on Halloween night, with afternoon highs only managing the 20s in parts of the northern Plains and the 30s in the central Plains.