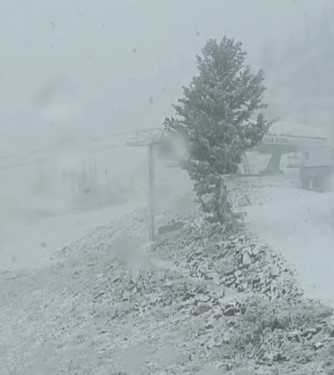 Snowbasin Resort in Utah's Wasatch Mountains posted a video, reposted at Unofficial Networks, celebrating the first snowfall there, delivered days before the official beginning of fall.
Commenting on Snowbasin's snowfall, Unofficial Networks writes:
Although fall is still two days away, snow is already piling up at Snowbasin Resort! With white fluff coating the bright fall colors, we are experiencing a two-for-one on seasons today. This is officially the first snow of the season, and it's coming a whole month earlier than last year's first recorded snowfall happening on October 22, 2022. Is this a sign predicting another historic winter? We sure hope so.
Powder.com notes that Snowbasin was neither the first nor the only Utah ski area to receive well before usual snow in September, reporting:
Earlier this month, Utah-based ski resorts like Brighton and Alta saw their first snowfalls of the season.
Now, Old Man Winter is expanding his reach.
Deer Valley and Snowbasin were the proud recipients of their first snowfalls of the season yesterday, September 21st.
Also, Brighton Resort received its second round of snowfall on September 22.