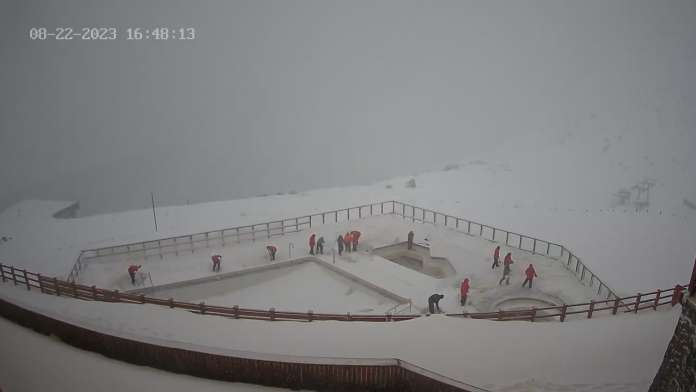 Image above: Snapshot dated 8-22-23 from the webcam at Ski Portillo showing workers shoveling snow.
Ski Portillo, the oldest ski resort in Chile, has temporarily closed its slopes and ceased operations in the face of what resort managers are calling the "Storm of the Decade," Powder,com is reporting.
"The 'storm of the decade' — now known as a Santa Rosa storm (storms that arrive near the start of the Santa Rosa festival, celebrated in Lima, Peru every year) — is delivering in South America, folks," writes Powder.com. "Yesterday, Ski Portillo, a Chilean ski resort, announced they'd received 50+ inches of snow so far, with more on the way."
According to the forecasting site, OpenSnow, Ski Portillo may receive an additional 76 inches of snow in the coming week.
White out conditions have resulted in both access roads to Ski Portillo being closed. And before the resort reopens its slopes, it reports it will have to conduct avalanche control work, which cannot be done until visibility improves.