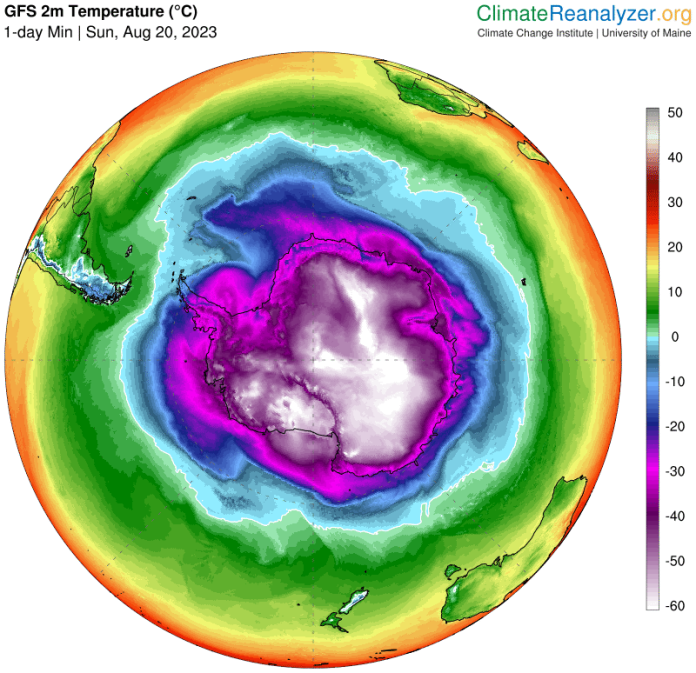 Antarctica has 43 permanent, 44 seasonal, and dozens of automatic research stations operated solely or jointly by 42 nations, and many of those stations have measured record or near record cold temperature in the fall and winter of 2023, reports Electroverse.
"Back in March, the Antarctic continent suffered its coldest ever reading so early into a year; in July it logged Earth's lowest temperature since 2017; and now, in mid-August, it's breaking multiple all-time cold records at stations across the continent," says Electroverse.
Citing data from the Antarctic Meteorological Research and Data Center and Automatic Weather Station Project (ANTMET), Electroverse reports in August:
With a recorded temperature of -77.98℉ the Vito Automatic Weather Station (AWS) located on the Ross Ice Shelf broke its all-time minimum record for temperature;
The Willie Field station, located at Ross Island Vicinity, set a new cold temperature record, of -75.82℉, more than five degrees lower than the previous record for cold;
The Lorne Island AWS also broke its previous record for cold by more three degrees with a measured temperature of and the -70.01℉.
The Erin AWS in West Antarctica tied its all-time low temperature record of -63.8℉.
Other stations Electroverse reported recording cold temperatures not seen in decades included, for example:
The AGO-4 at Vostok dropped to -81C (-113.8F), a reading not seen since 1994.
While Byrd, another automatic station in West Antarctica, recently posted -63.9C (-83F), which came within just 0.5C of the all-time low temperature record there, the -64.4C (-83.9F) set back on July 18, 1985.
These August records come just two years after Antarctica recorded its coldest "coreless winter," in history in 2021.