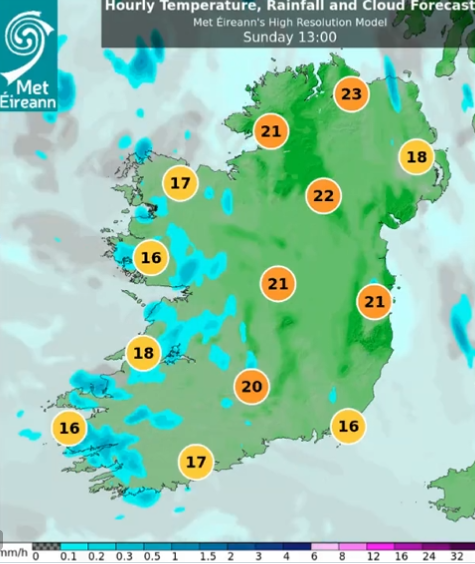 Image: Meteociel/Carlow Weather
Headlines from the Irish Mirror, "Hopes hot weather to break Ireland's cold spell as maps pinpoint date of spectacular U-turn," tell the tale of an unusually cold mid-summer across Ireland. The story forecasted a change back to summer weather in early August.
Ireland's July was cold and wet, but the hoped for return of summer failed to materialize as early August continued the trend of well below normal temperatures and continued bone-chilling rain.
Visual Crossing reports that for the 16-day period of July 25 through August 9, Dublin Ireland, for instance, recorded seven days where both the daytime and nighttime temperatures were both well below average, on some days nearly 5℃ below average. Another four days recorded below average temperatures for either daytime or nighttime. Temperature data from Cork and Limerick, Ireland tell similar tales of below normal temperatures and higher than average amounts of rainfall for the summer.
Also, as the BBC reported in a story headlined, "Where has the UK summer gone?" what was true for the Republic of Ireland, was equally true for Northern Ireland and the United Kingdom as a whole as well. The British Isles, as a whole, experienced a wetter and colder than normal summer.