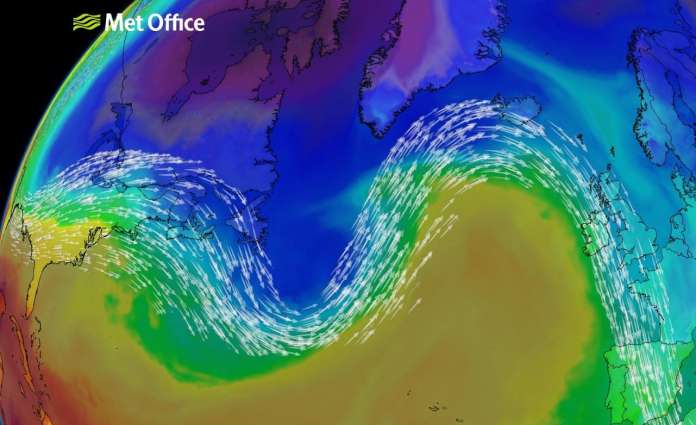 A shift in the jet stream which has contributed to sustained hot and dry weather across much of Europe is delivering just the opposite to the United Kingdom, where conditions in July, and into August, are cooler than average with copious amounts of rain.
The Daily Mail reports that the United Kingdom experienced a cooler than normal spring, before the jet stream shifted delivering warmer summer temperatures to the island nation. In most years the jet stream, originating in the Arctic, stays above the United Kingdom for the summer, which is where it operated in June when summer temperatures were the norm across the British Isles. The jet stream shifted south, below the United Kingdom in early July delivering unusually cold temperatures and rain, a pattern that persisted throughout the month and into August.
"A band of low pressure at [the] beginning of July brought with it cooler temperatures," writes the Daily Mail, explaining the cause of present weather conditions. "Rain and chilly weather [are] likely here to stay for most of August, forecasters say."
The jet stream's shift is now also driving colder temperatures into Germany and parts of the alps, the latter where summer snow has recently fallen.
Currently temperatures in the United Kingdom, and some other parts of Europe, are closer to those normal for autumn than summer.
A persistent "blocked weather pattern," is also contributing to current conditions in the United Kingdom and across Europe, say scientists interviewed by the Daily Mail. That atmospheric blocking has combined with the shift in the jet stream to account for both the sustained heat experienced by much of Southern Europe and the unusually cold and wet July in the United Kingdom.
How cold has it been? Electroverse reports that official Central England Temperature (CET) data shows an average 60.8℉ for July 2023, the lowest July average temperature in 21 years. Temperatures this low have only been experienced 21 times in the CET's 364 years of recording temperatures, "the Julys of 1659, 1664, 1665, 1668, 1670, 1671, 1676, 1679, 1680, 1684, 1712, 1720, 1726, 1732, 1739, 1805, 1814, 1824, 1828, 1929, and 2002."
All but the last two of those July temperature averages were recorded during the little ice age which has been conventionally defined as spanning the early 16th through the late 19th centuries.