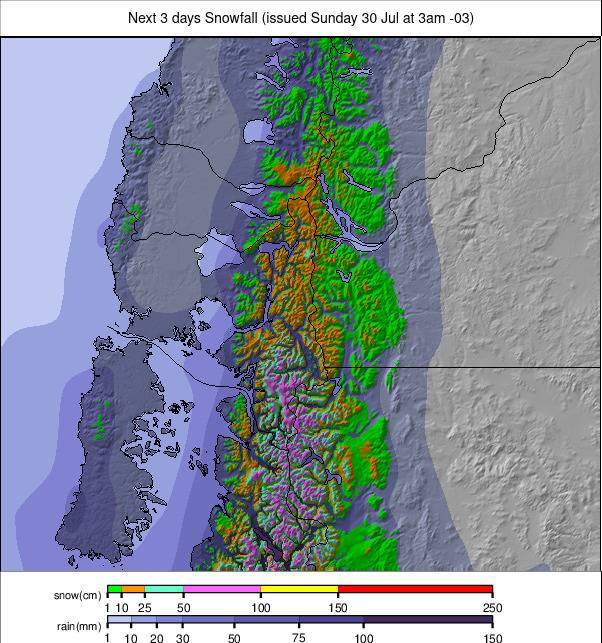 Above: Forecast image from Snow-forecast.com
Despite a slow start to a ski season thus far, "[t]here have been some good snowfalls in southern Argentina over the past week," reports Snow-forecast.com, and more snow is on the way.
Over the past week Argentina's ski areas have received light to heavy snow. One ski resort, Las Lenas, reported as receiving more than three feet of snow on July 23 alone. Continuing snow there led one professional skier to declare winter officially "back," in Argentina.
"Spanish skier Adrià Millan Pla has made his annual summer pilgrimage to Las Leñas, Argentina," reported Powder.com.
"Glory Days are Back!," said Pla in video he posted on Instagram, on July 25.
Each of Argentina's 17 ski areas reported snowfall on July 29, with the amounts ranging from about half-an-inch at some resorts to more than 7 inches at a few of them.
On July 30, 10 of the 17 ski areas reported snow falling, with Ski-forecast estimating that over the next week snowfall at some resorts could top between eight and 39 inches.
The snowfall comes amidst extremely cold temperatures settling in over Argentina and parts of Bolivia, Chile, Paraguay, and Uruguay, about which Electroverse wrote:
A host of towns and cities in southern Patagonia have spent 5+ days without exceeding the freezing mark (0C/32F), with overnight lows plunging to an astonishing -15C (5F), and beyond. While across the Argentine province of Santa Cruz, there is currently a "red" alert in place for extremely low temperatures.