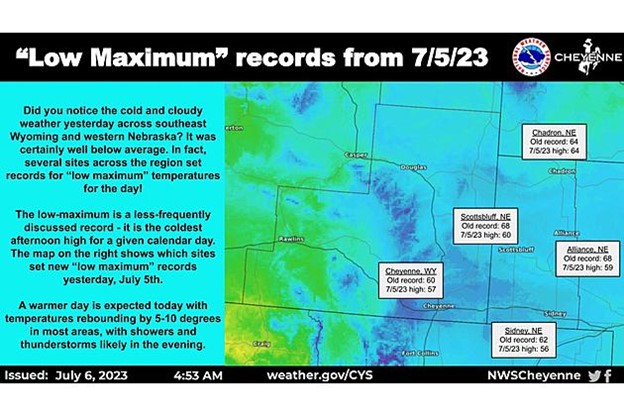 While portions of the southern United States sweltered under a heatwave in late June and early July, parts of the Mountain West, were setting records for their lowest high temperatures for particular dates and even for the month.
"Chilly Fourth Of July Sets Records, Cools Off Celebrations Across Wyoming," read the headlines from the Cowboy State Daily, which reported:
A cold front that swooped down out of Canada late Monday brought winds that knocked down trees and snapped power poles across northwest Wyoming and made for a chilly Fourth of July across much of the state.
Joshua Rowe, meteorologist for the National Weather Service in Riverton, said the front didn't cause any record low temperatures, but it did set several records for lowest high temperatures for the Fourth of July.
Rowe said the high temperature at the Lander Airport only reached 58℉ on Tuesday, a new record.
Elsewhere, in Wyoming, the Riverton Airport reported a high temperature on July 4 of only 61℉, which was also a record low high for the date. The following day, temperatures in Afton and Jackson, Wyoming fell to 37℉ and 40℉ degrees respectively. Not records but still well below normal for the time of year.
KGAB AM 650 in Cheyenne, Wyoming reported that a new daily low high temperature record was set there and elsewhere across the region on July 5, writing:
According to the National Weather Service in Cheyenne, several locations across southeast Wyoming and western Nebraska, including Cheyenne, set new "low maximums" for the day.
The capital city topped out at a chilly 57 degrees, 3 degrees cooler than the previous record lowest max temperature for July 5, and a whopping 26 degrees colder than normal.
Electroverse reports that the same early July cold front that blew in from Canada broke daily and even monthly low temperature records for some locations in Montana, North and South Dakota, and Nebraska.