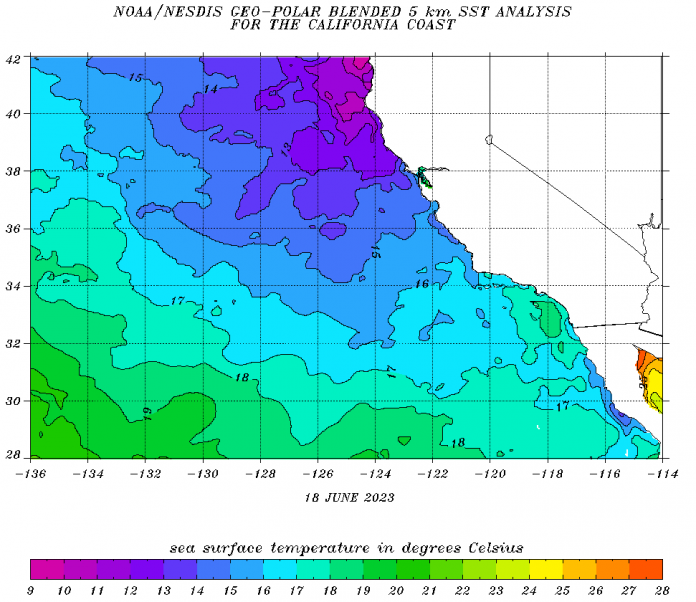 The Washington Post published an article "It's been unusually cold and gloomy in California. What's going on?" saying that California has seen well below normal temperatures for the month of June. The reason seems to be a persistent coastal fog that has caused low sunlight combined with cool sea-surface temperatures as seen in the graphic above.
Coastal cities like San Diego and Los Angeles have been mired in thick and seemingly endless fog for weeks. The cloud cover, known to locals as "May Gray" and "June Gloom," is common in late spring and early summer, but this year seems different, and meteorologists are fielding questions about how long the gloom will last.
…
In San Diego, there were no clear days in all of May and for the first half of June, according to Alex Tardy, a meteorologist at the National Weather Service office in the city. On average, about eight days in May and nine in June would see clear skies from sunrise to sunset. Instead, the city saw 20 cloudy days in May, which is double the norm, and June already had seen 13 through Tuesday. The marine stratus has often extended well inland and to higher elevations, enshrouding mountain roads and communities.
…
Brandt Maxwell, another meteorologist at the San Diego office, combed through historical records at four area weather stations and found that solar radiation ranked lowest in May 2023 at each location.
The National Weather Service in San Diego provided a graphic on Twitter that sums up the colder, gloomier days: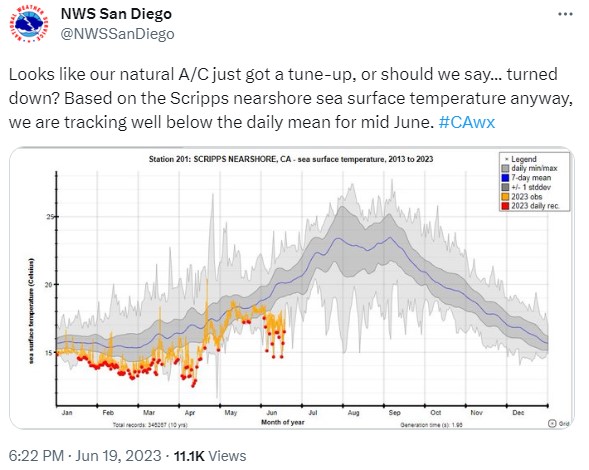 The NWS San Diego also provided images of the persistent fog layer as seen by remote mountaintop cameras: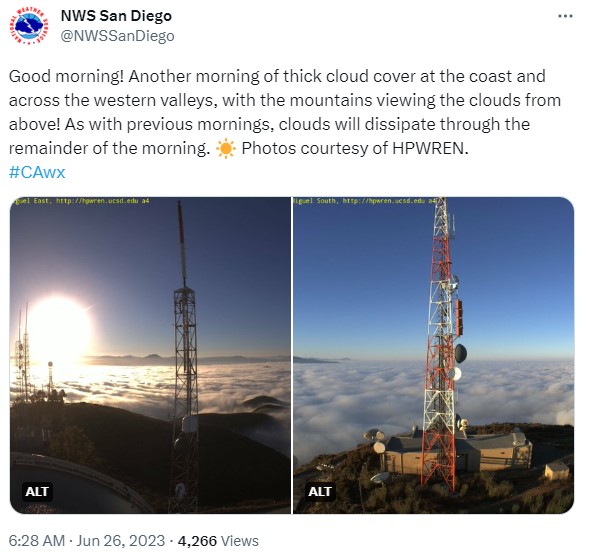 While outlooks suggest that coastal California will be cooler than normal through June, such as this one from the NWS Climate Prediction Center, forecasts for the interior of California are now expected to exceed 100°F by the end of the month.