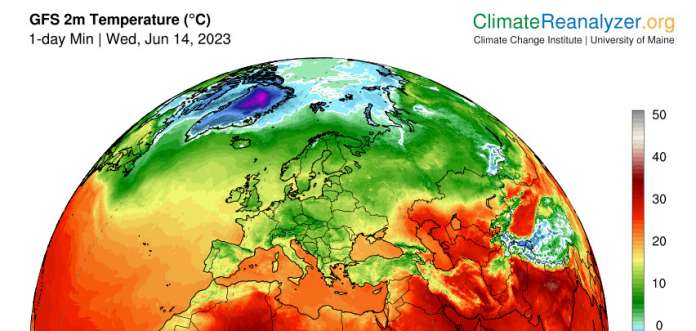 Image above: Cool greens show minimum temperatures in the 10°C (50°F) range across Europe. Source: Climate Reanalyser
May and June have felt more like winter than summer across a large swath of Europe with numerous cold for the season records being set, reports Electroverse.
"Northern and Eastern Europe's cold is persisting, intensifying in some spots," said Electroverse. "Frosts have been commonplace this month, with record low temperatures hitting many nations."
Estonia, for example, set a new cold temperature record for June, of -1.5℃ (29.3℉) on Sunday June 11, in the city of Narva. The previous June temperature record of -0.9℃ was set 41 years previously in 1982.
Italy, Slovakia, and the Czech Republic all recorded below average May temperatures. In the Czech Republic, for example, May temperatures were 0.5℃ below the multidecadal average, while Italy's May 2023 temperatures were -0.14℃ below the multidecadal norm.
Other northern and eastern European nations experiencing a chilly start to summer in June include, Finland, Latvia, and Russia.
Latvian public broadcasting (Esn.LSM.lv), for example, reported that Latvia's first 10 days of June were two degrees cooler than usual, and even a degree lower than at the end of May.
"Five cold records were outperformed, including the minimum air temperature records for all of Latvia on June 2 and 3," said Esn.LSM.lv, on June 13.