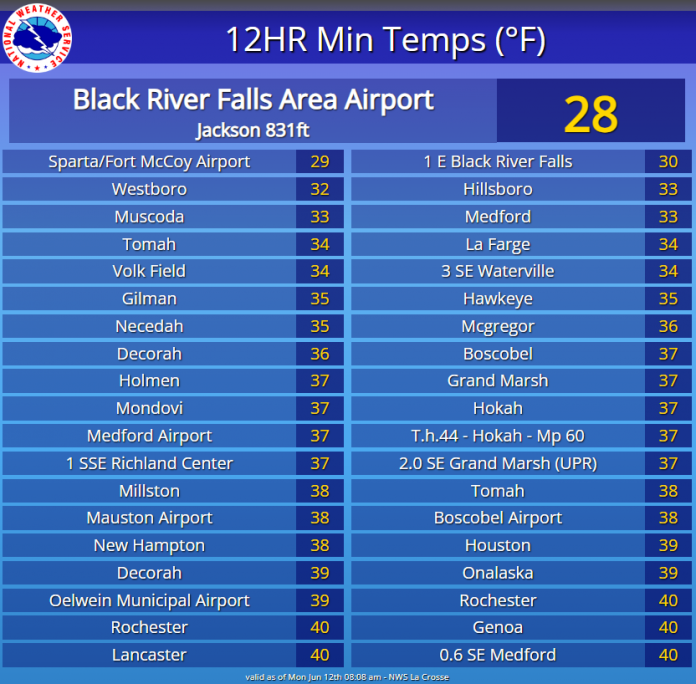 Throwing off pleasant spring temperatures, a cold front that swept across Iowa produced new cold temperature records for several cities and towns in the state for the date of June 12, reports the Oelwein Daily Register.
According to the National Weather Service (NWS), Cedar Rapids, Mason City, Ottumwa, and Elkander each set new or tied existing all-time low temperature records for June 12. The Daily Register reposted many of the NWS's social media post on the local records falling:
"Yikes, raw NWS COOP report from Elkader 6SSW (far NE Iowa), low of 35 and reported frost!," the [NWS's] post, read. "This spot is notorious for cold air drainage events. Coldest June low… since 2004."
…
"BRRR…The air temperature at the Ottumwa Airport hit 41° at 3:38 AM this morning," a separate NWS post explained. "This breaks the old record of 46° set on this day back in 1936."
…
"The chill is also being felt in Mason City where the temperature dipped to 41° early this morning. This ties the record low for today, which was set back in 1927."
Other cities in the region that the NWS reported posting well-below normal temperatures for the date, included, Decorah (36℉ degrees), New Hampton (38℉ degrees), Hawkeye (35℉), and McGregor (36℉).