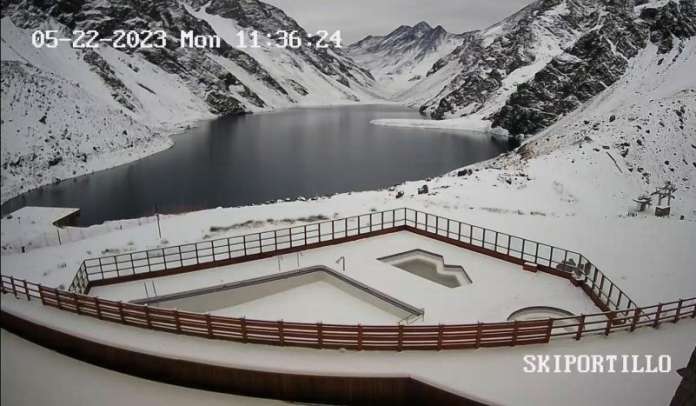 Above Image: Ski Portillo via Facebook, May 22, 2023.
The last week of May was a good one for Ski Portillo Chile resort, which received its first significant snowfall of the season weeks before the official start of winter and the resort's opening, according to Snow Brains.
"The Southern Hemisphere is off to a solid start already this winter," wrote Snow Brains. "As we are winding things down in North America after a historic season for California, Utah, and Wyoming, things are just getting going down south.
"OpenSnow is reporting 29″ of snowfall at Ski Portillo, Chile, all falling in the last ten days of May," Snow Brains continued. "The first established ski resort in Chile and South America will open in just a few weeks."
Powder.com also covered Ski Portillo's welcome early snowfall, sharing pictures and videos from the resort.
"We had our first pre-season snowfall the other day and we want to drop you some after photos from our amazing deck 😎," shared the resort on its Facebook page.
"Portillo isn't scheduled to open for the winter until June 25th, but they'll take all of the early-season snowfall they can get," said Powder.com.