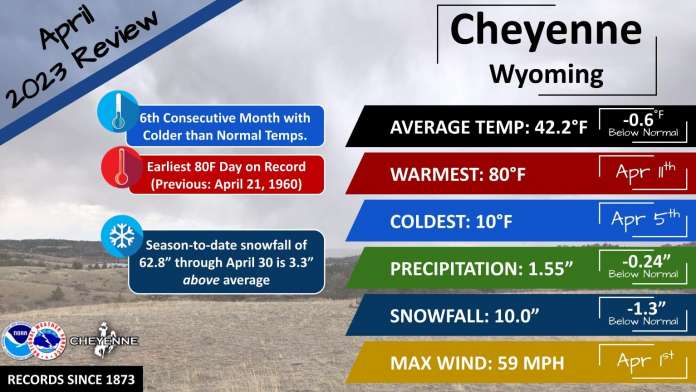 The National Weather Service (NWS) reports that temperatures in Cheyenne, Wyoming in April were below normal for the month. As KGAB 650 AM reports, because April's temperature came in below average, Cheyenne has now experienced lower than average temperatures for six straight months.
In general, the weather in the region was volatile in April, but on average cooler than normal says the NWS:
April 2023 was a volatile month across our area. While temperatures averaged mostly just slightly below normal, we had our fair share of both record heat and record cold. Cheyenne rose from 10F to 80F in just 6 days, with April 11th earning the spot for earliest 80F day on record. The wild temperature swings took the month to an average of just 0.6F below normal …. Scotts Bluff [Nebraska] had a similar month with wild temperature swings averaging to just 0.4F below normal. … Elsewhere, the story was similar, with wild temperature swings averaging to near normal and precipitation mostly slightly below normal. All of our climate sites broke at least one record high or record low last month.