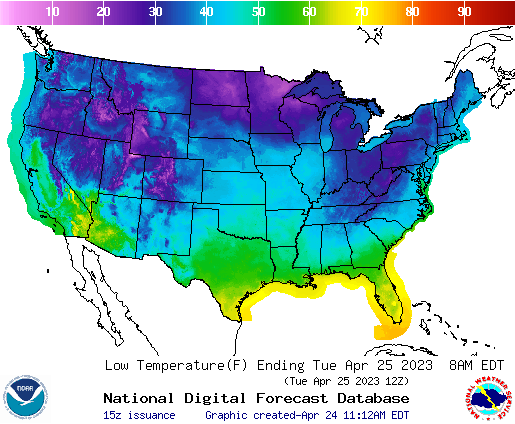 Weather forecasters say that a cold front that blew into the United States on April 21 is lingering across a wide swath of the country and is expected to deliver well below average Spring temperatures through the end of April.
More than 200 million people experienced temperatures significantly below normal for late April over the weekend of April 22 through April 23, said Fox News. The National Weather Service issued Freeze Watches and Warnings, and Frost Advisories for more than 67 million people.
Fox News reports new low temperature records were set or tied in numerous cities and towns on April 23, 2023, for example:
Sioux City, IA set a new daily low temperature record of 21℉, breaking the previous record of 25℉ set in 1996;
Omaha, NE set a new daily low temperature record of 26℉ degrees, breaking the previous mark of 28℉ established in 2013;
Kansas City, MO broke its previous low temperature record of 32℉ set in 1893, with a low temperature of 31℉;
Wichita, KS tied its existing temperature record of 32℉ degrees, first set in 2013.
In addition, on April 24, Indianapolis tied its daily record low of 28℉, and, according to Fox News, on Tuesday, April 25, "Asheville in North Carolina (32℉), Bristol in Tennessee (31℉) and Parkersburg in West Virginia (31℉) will each make a run at their daily record low."
Daily high and low temperatures in Dallas, Texas on April 23, although setting no records, were well below normal for that date and time of year. The average daily low temperature in Dallas on April 23 is 58.9℉ and the average daily high is 78.8℉. By comparison, 2023's April 23 high temperature was just 57℉, nearly two degrees below the average low temperature for the date and more than 20 degrees below the average high. And Dallas' recorded low temperature was 48℉, more than 10 degrees below normal for that date.
The National Oceanic and Atmospheric Administration suggests that cooler than average temperatures will persist across most of the United States through the end of April.