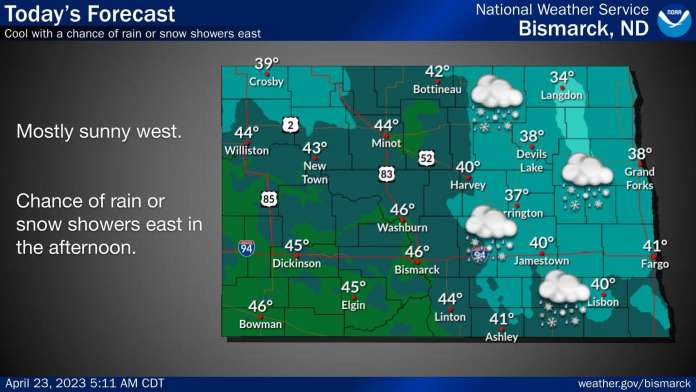 The National Weather Service issued a winter storm warning for a vast swath of North Dakota for April 20 and April 21.
The Grand Fork Herald reported that a winter storm sweeping across North Dakota and into Minnesota could deliver as much as foot of snow to some areas with more than six inches being common across the region hit by the storm.
"A winter storm moving across northeastern North Dakota and northwestern Minnesota on Thursday, April 20, and into Friday, April 21, is expected to bring multiple rounds of heavy snow to the region," said the Grand Forks Herald. "While the National Weather Service says Grand Forks is expected to get at least 6 inches of snow, some northern towns will likely see more.
"Additionally, lower-than-normal temperatures are expected to continue across the region for the next seven days, [Amanda Lee, with the National Weather Service in Grand Forks]," told the Grand Forks Herald.
The winter storm caused widespread poor driving conditions, which resulted in at least one roll over crash at the storm's onset on April 20. This led public officials in some counties to advise people to stay off the roads if at all possible.