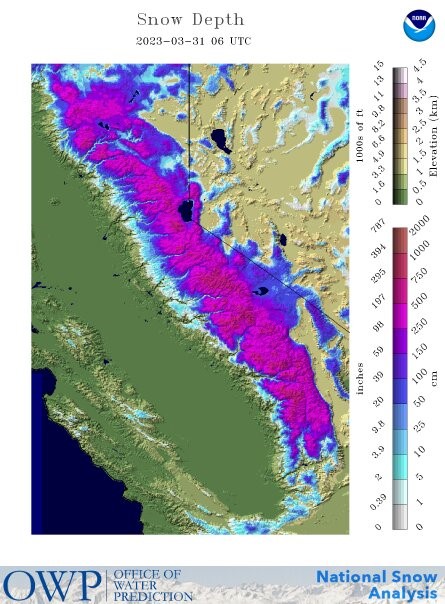 Image above: California snowfall at the end of March 2023. Image produced by the National Operational Hydrologic Remote Sensing Center, Office of Water Prediction.
The Washington Post (WaPo) reports that a new record has been set for California's snowpack, owing to a series of at least 31 (11 weak, 13 moderate, 6 strong, 1 extreme) atmospheric river events that have dumped over 700 inches of snow at the official snow monitoring lab near Donner Summit in the Sierra Nevada Mountain range.
WaPo writes:
The latest in the long onslaught of storms that began in December has pushed California's snowpack to its highest level on record. This [past] week's storm dumped another one to two feet in the Sierra Nevada helping this season eclipse 1982-83, the previous record-holder.
The water stored in the state's snowpack is 235 percent of normal, according to the California Department of Water Resources, surpassing 234 percent in 1982-83.
In fact, according to snowfall plots by California's State Department of Water Resources, all areas of the Sierra Nevada mountain range are well above average. The cyan curve shows average snowpack accumulation, the blue line shows measured snowfall to date in 2022-2023, and the red line shows the previous record set in 1982-1983: