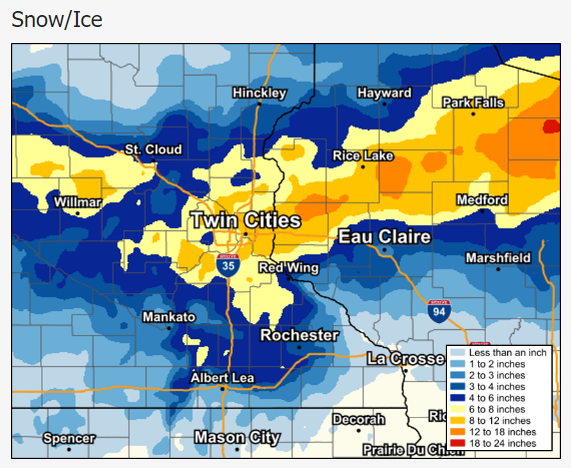 Winter Storm Uriel blew out of California and into the Rocky Mountain West and upper Midwest on March 31 and April 1, reports The Weather Channel.
Uriel's combination of snow, ice, freezing rain, and high winds created blizzard conditions in some areas of the Midwest, with white out conditions being common from South Dakota into southwestern Minnesota. By the morning of April 1, Uriel had already dropped more than 15 inches of snow in the Black Hills of South Dakota, in and around Rapid City.
The storm is likely to impact travel conditions far beyond the Midwest, however, with the Weather Channel writing, "[h]igh winds are expected in a much broader area of the Midwest, Great Lakes, and Northeast … [t]he combination of snow and wind will make travel hazardous in some areas."
Nor, if the Weather Channel's analysis of weather conditions is correct, is winter over for much of the country.
"A potent winter storm will bring heavy snow and strong winds to parts of the West and Northern Plains early this week, including blizzard conditions for some areas," said the Weather Channel on April 2. "T​his new system has been named Winter Storm Vanessa by The Weather Channel."
The National Weather Service (NWS) has already issued various winter related weather advisories, reports The Weather Channel, ranging from from Winter Storm Warmings up to and through Blizzard Warnings. The storm is expected to deliver below average temperatures, snow, sleet, freezing rain, and high winds, beginning on the West Coast, in Northern California through Washington state on Monday and eastward through the Dakotas, Nebraska, and Minnesota. By Tuesday the NWS says the storm is likely to impact the Northern Rockies and the Western Great Lakes as far east as Marquette, Michigan. The storm is expected to deliver heavy snow to parts of the Rocky Mountains and the Northern Plains. Farther south, where temperatures are expected to remain consistently above freezing, the Weather Channel says the storm will likely bring rain.