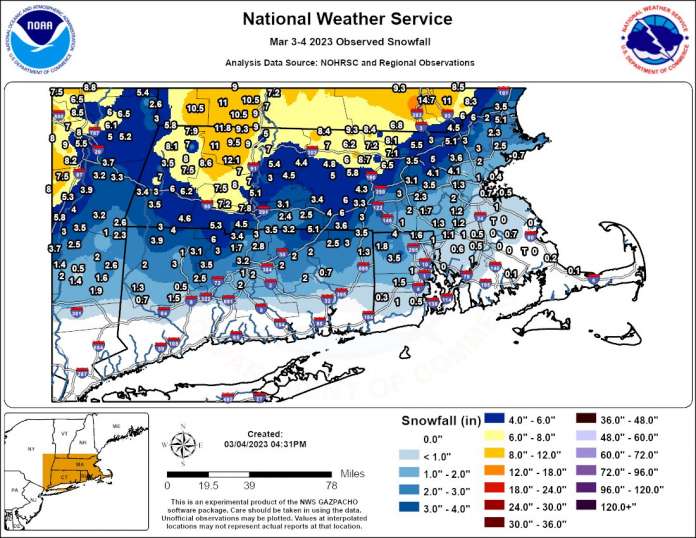 The National Weather Service (NWS) issued a winter storm warning for a wide swath of Massachusetts.
Boston 23 News reports that the NWS's winter storm warning remained in effect through the evening of March 4, writing "up to 10 inches of snow expected in some areas before the messy weather system moves out later in the evening."
"The snow isn't the only concern with this storm," continued Boston 23 News. "Sleet and rain is making for messy travel in many areas, while whipping winds are lashing points along the coast, Cape Cod, and the Islands."
The winter weather resulted in widespread but sporadic business and school closings, even into Monday, March 6.
The area affected by the storm and, in some locations, the snowfall amounts were even greater than was indicated by Boston 23 News. WCVB listed the snowfall amounts reported by the NWS by late afternoon March 4, and in a few locations they surpassed 10 inches, for example, in in Franklin County, snowfall amounts topped 11 inches in Rowe and Hawley, and 12 inches in Ashfield.
The location and amount of the highest snowfall measured in various counties highlighted by WCVB are listed below:
Berkshire County – Windsor, 8.0 inches;
Bristol County – North Attleborough, 1.1 inches;
Essex County – Haverhill, 6 inches;
Franklin County – Ashfield, 12.1 inches;
Hampden County – Westfield, 7.2 inches;
Hampshire County – Plainfield, 8.6 inches;
Middlesex County – Ashby, 8.4 inches;
Norfolk County – Dover, 2 inches;
Plymouth County – Pembroke, 0.7 inches;
Suffolk County – Chelsea, 1.4 inches;
Worcester County – Ashburnham – 9.3 inches.