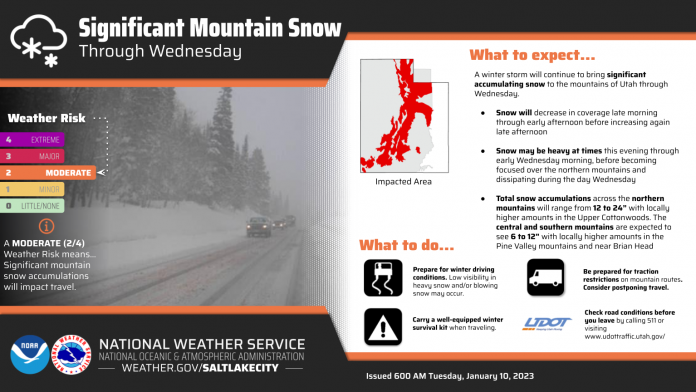 ABC 4 in Salt Lake City, Utah reports two "troughs that will bring ample moisture to the Beehive State," are headed to Salt Lake City and the areas surrounding it in the coming days.
Because Salt Lake is currently experiencing warmer than average temperatures due to a southwestern air flow, the first round of precipitation is likely to consist of heavy rain in the valleys and snow in the mountains, adding to deep snowpack there. According to ABC 4: 
Winter Weather Advisories have been issued for the mountain areas and will begin at 5 p.m. and will continue through 5 p.m. Wednesday.
Heavy mountain snowfall is expected with this next atmospheric river event. In the weather advisory, the northern mountains are expected to pick up 6-14 [inches] of new snow with the Central and southern mountains expecting 6-12 [inches] The Central Wasatch, Uintas, and Upper Cottonwoods can plan on 10-20″ of new snow with locally higher amounts in the Upper Cottonwoods. The Western Unita Basin is also included in the advisory with the lower valley expecting 1-3 [inches} while the higher valley will see 4-6 [inches].
The consecutive winter storms are delivering snow to an area that recently experienced its heaviest December snowfall in more than 20 years.
"December 2022 saw 22.6 inches of snow — the snowiest December for Salt Lake City since 2007, when the city saw 29.8 inches of snow," writes the Salt Lake Tribune. In fact, National Weather Service records show that December 2022 was Salt Lake City's 3rd snowiest December in the last 20 years (see the figure below), well above the 13.3 inch average on snowfall for the month over the past 20 years.