A major winter storm, with winds gusting up to near hurricane strength is moving through northern California. Dubbed a "bomb cyclone" due to its very fast central pressure drop, it more than qualifies for the 24 millibars (mb) in 24 hours "bomb" cyclone designation.
As of 12:00 PM Wednesday Jan 4th, the central pressure of the storm as it was just off the California coast was 28.31 inches (958.69 millibars) as shown in the graphic below. This pressure is lower than many Atlantic hurricanes.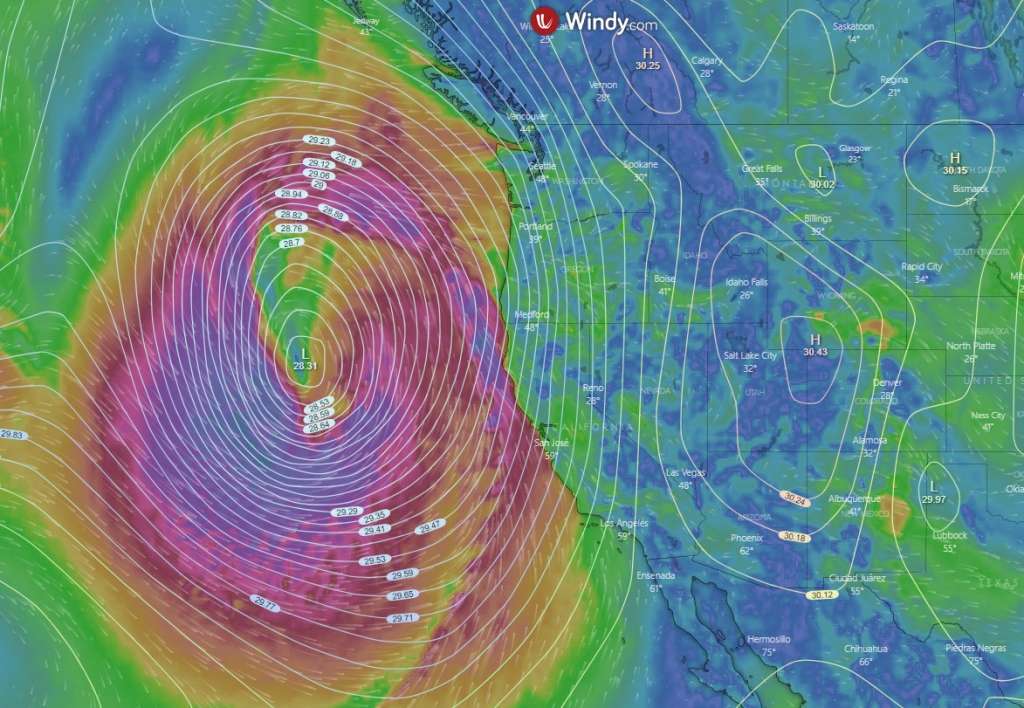 The National Weather Service (NWS) issued a Winter Storm Warning for the Northern Sierra Nevada.
Heavy snow expected. Total snow accumulations of 4 to 10 inches, except 6 to 18 inches west of Highway 395. Lowest valleys below 4000-4500 feet elevation are only expected to see up to 3 inches of snow.
…
Snow levels will start off below 4000 feet before briefly increasing to 5000-6000 feet Wednesday   afternoon. Snow levels will then fall again to 4500-5000 feet Thursday. This storm will come in 2 parts, and areas east of Highway 395 may see a brief break Wednesday evening.
For the areas Near lake Tahoe, the NWS advises the situation is even worse:
Heavy snow expected. Total snow accumulations of 8 to 14 inches, except 1 to 2 feet above 7000 feet. Localized amounts up to 3 feet are expected for the Sierra crest. Winds gusting as high as 100 mph over Sierra ridgelines with gusts up to 40 mph in the Tahoe Basin.
In addition, widespread damaging winds are forecast from this winter storm.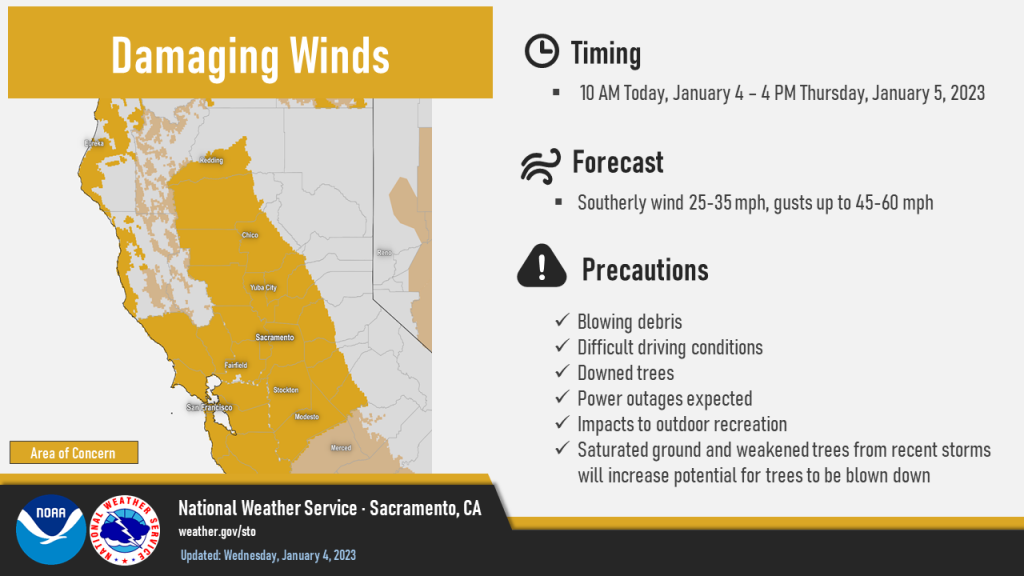 Winds on the valley floor are expected to gust as high as 60 mph, with higher elevations seeing stronger wind gusts.
Because this winter storm is relatively warm, the NWS has forecasted areas of likely flooding, covering much of the Sacramento Valley and the north coast.
Snow levels in higher elevations are higher than normal for this time of year. As rain from the bomb cyclone falls rain onto snow-laden areas, top levels of snow will be expected to melt the NWS warns which is likely to overwhelm already waterlogged soil, making for fast runoff into creeks and rivers.