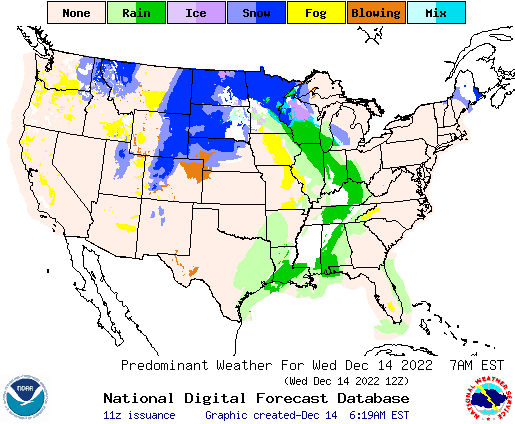 USA Today reports that a severe bout of winter weather is about to impact a large swath of the United States.
"A brutal winter storm packing wind gusts of up to 80 mph was marching toward the nation's interior Monday, threatening to pound a swath of the nation with snow measured in feet," wrote USA Today on Tuesday, December 13. "Almost 15 million people in more than a dozen states faced foul weather warnings or watches Monday. Blizzard or winter storm warnings were in effect for parts of Oregon, Nevada, Idaho, North Dakota, South Dakota, Wyoming, Colorado, and Nebraska."
The National Weather Service (NWS) warned in an advisory, "[t]his system will then stall across the central Plains into Thursday, producing several days of heavy snow and blowing snow, including blizzard conditions, and freezing rain extending into the Upper Midwest."
Specifically the NWS said several areas could see more than two feet of snow with "whiteout conditions," likely necessitating widespread road closures in order to ensure driver safety.
By Wednesday, it became clear the NWS's warnings were warranted. USA Today published an updated story noting that the large cold mass had dumped more than four feet of snow in Nevada and Idaho, and that more than 25 million Americans, rather than the 15 million suggested in the earlier report, were covered by various NWS winter weather watches, warnings, and severe weather alerts.
"This is a 'we are not kidding' kind of storm," South Dakota's Department of Transportation tweeted. "BLIZZARD and ICE STORM WARNINGS have been issued. Rain/freezing rain and heavy snow coupled with high winds will impact travel."
Blizzard conditions are the norm across large swaths of Nebraska, Colorado, South Dakota, Montana, Wyoming, and Kansas, reducing visibility to a quarter-mile or less, resulting in interstate highway closures in Nebraska, Colorado, and other states.