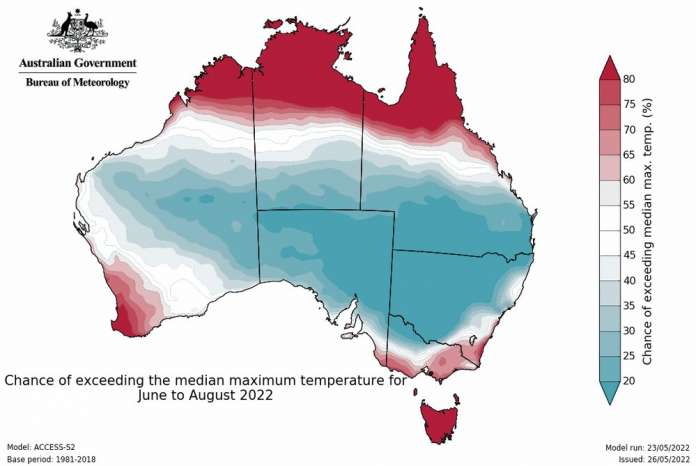 Australia's ABC TV network  reports on an unusually cold spring season down under.
The exceptionally cloudy conditions this spring kept maximum temperatures well down on recent years.
Melbourne, Adelaide and Canberra all shivered through maximums at least one degree below average and the lowest since 1992. Brisbane's spring was the coldest in 12 years, and for Perth it was the coldest in six.
…
Sydney's maximums were the lowest in four years but the mean temperatures, which includes the minimums, was the coldest since 2003 and the city failed to reach 30C for the first time in three decades.
The lack of warming temperatures, expected for spring, was clearly evident as ABC says:
Even more unusual is some western suburbs of Sydney, including Penrith, failed to hit 30 degrees for the first time on record.
Of the 42 seasons since winter 2012, the only other season with colder than normal days was summer 2020-2021.
This table illustrates the temperature records by city, sourcing the data from the Australian Bureau of Meteorology (BOM):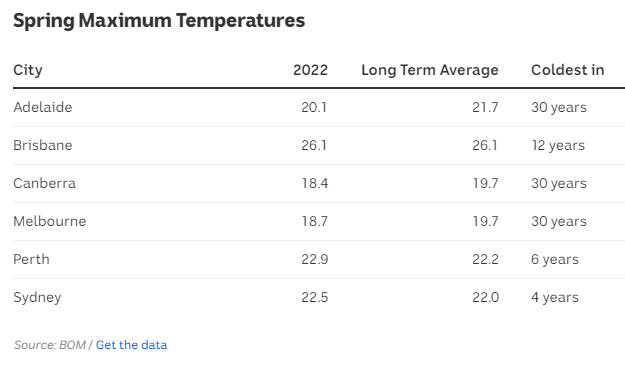 In addition to the colder than normal temperatures, ABC also notes that spring was wetter than normal, setting new records.
"It was the wettest spring on record for south-east Australia, including NSW, Victoria and the Murray Basin. Canberra broke its spring rainfall record, while Sydney's spring was the wettest in 27 years."