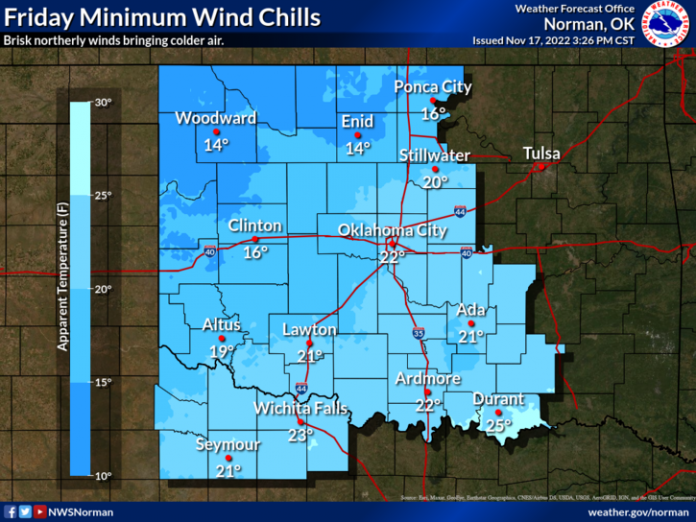 Oklahoma City's KOCO 5 posted a running blog as winter came early to the city on November 14, dropping daily high and low temperatures well below their November averages, and delivering snow across the region.
"Snow fell as winter weather moves through Oklahoma on Monday, creating slick conditions for drivers," wrote KOCO 5 with its 4:05 pm update reporting, "Oklahoma Department of Transportation crews are working to treat slick spots and some snow-packed roads in the Panhandle, northwestern, western and southwestern portions of the state. They also are applying materials along Interstate 40 in western Oklahoma."
By 3:30 pm, more than four inches of snow had fallen Geary and the snow was still falling there and around the state.
Snow this early in Oklahoma City, although not unheard of, is unusual. Since 1892, the average date for first measurable snowfall for Oklahoma City is December 17th, with January 1st being the average for the first snowfall of at least an inch.
In the light of the weather, Southwestern Oklahoma State University closed its main and satellite campuses by the afternoon.
It wasn't just the snow that was unusual for this time of year, temperatures in Oklahoma City and across the state registered well below their normal averages for November for the week.
According to Weather Spark the daily average high temperature for November is 56℉, rarely falling below 42℉ or exceeding 79℃, and average daily low temperatures for the month are 37℉, rarely falling below 25℉ or exceeding 60℉. For comparison, Oklahoma City's high temperature on Monday November 14 only reached 39℉, 17 degrees below the normal monthly average, with a low of 30℉. The temperatures Tuesday and Wednesday also remained well below average for the month, with highs of 46℉ and 45℉ respectively, and lows of 28℉ and 25℉. Oklahoma City began the day Thursday with temperatures dipping to 23℉.
Oklahoma's unusually cold fall temperatures are a reflection of a larger trend of premature, severe winter weather being recorded across a large swath of the United States.